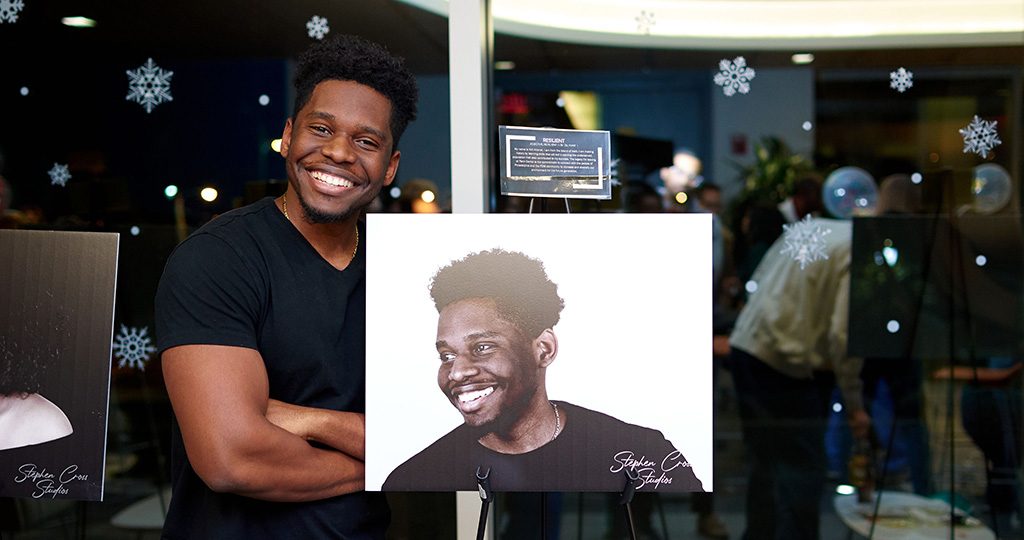 Will Alcenat (D'23) poses next to his portrait during Penn Dental Medicine's annual Black History Month celebration event, hosted by the Student National Dental Association (SNDA) chapter.
As part of Penn Dental Medicine's Black History Month, the Student National Dental Association (SNDA) chapter hosted its annual celebration event on February 20, 2020. A special photography exhibit was developed for the event for the Gallery 240 Project, featuring 12 student portraits with accompanying bios and visionary statements. Fourth-year student Elaf Saeed (D'20) curated the exhibit with the photography by prosthodontics resident Dr. Stephen Cross (GD'20).
FIRST
ADJECTIVE, ˈFƏRST
My name is Stephen M. Cross. My history is Jamaica, Jamaican, Xaymaca. I am making history by being in the first Prosthodontics class and first black Prosthodontics resident at Penn. The legacy I am leaving at Penn dental is bridging the gap between resident and student.
RESILIENT
ADJECTIVE, RE·​SIL·​IENT | RI-ˈZIL-YƏNT
My name is Will Alcenat. I am from the island of Haiti. I am making history by learning skills that will aid in serving the underserved population that also contributed to my success. The legacy I'm leaving at Penn Dental is the commitment to connect with the people of Philadelphia and the PDM community to increase and diversify our environment for the future generation.
GRIT
NOUN, ˈGRIT
I am Amma (D'20). My ethnic history is from the great Akana Tribe of Ghana. I am Ghanaian, I am African. I am making history by being a role model to young girls in Ghana by showing them that women can aspire to be anything they want by having the grit to do so. The legacy I am leaving at Penn dental is my unflinching commitment to my patients and the gentle and kindhearted spirit I share with my colleagues and faculty.
DEDICATION
NOUN, DED·​I·​CA·​TION | ˌDE-DI-ˈKĀ-SHƏN
My name is Scott Cannon. My ethnic history originates back to both West Africa and Russia, and I identify as biracial. I am making history by completing what my father started and becoming the first of my family to be called "doctor". The legacy I am leaving behind at Penn Dental is that with dedication and perseverance anything can be accomplished, don't let what others have said in the past determine your future. "He who says he can, and he who says he can't are both usually right." – Fresh Prince of Bel-Air
INTENSE
ADJECTIVE, IN·​TENSE | IN-ˈTENSE
My name is Robyn Paige Hemmings (D'20). I am a proud Afro-Caribbean woman who hails from the beautiful island of Jamaica. Our motto is "Out of Many One People", which nicely describes my multicultural and multiracial background. I am making history by contributing to research, providing compassionate patient care and educating/inspiring my patients and peers. The legacy that I hope to leave at Penn Dental is my intense passion of serving others, whether it be faculty, staff, peers or patients. To quote one of my favourite artistes, Chronixx, "if one person remembers my name, that means I made a change.
AMIABLE
ADJECTIVE, AMI·​A·​BLE | ˈĀ-MĒ-Ə-BƏL
My name is Julian Johnson. I was born in Sierra Leone, West Africa. I am making history by overcoming the challenges in life and doing something for the greater good. The legacy I am leaving at Penn is to create a platform that will foster growth and development among current and prospective students.
INNOVATE
VERB, IN·​NO·​VATE | ˈI-NƏ-ˌVĀT
My name is Alyse Mongalo O'Kelly. I am both African-American and Nicaraguan and I identify as exactly that — Black and Latina. In 2019, I made history by becoming the youngest person, and only dental student, to sit on the Board of Directors for the Dr. Ed B. Shils Entrepreneurial Fund–an organization created to promote innovation and advancement in dentistry in honor of Dr. Ed Shils, a PDM and Wharton alum. The legacy I hope to leave at Penn is the first student-led, oral health focused incubator I co-founded in 2018 called DICE (Dental Innovators, Creators and Entrepreneurs). This incubator cultivates dental entrepreneurs by providing them with the skills and resources they need to develop and promote their ideas in the marketplace. To that end, I am spearheading the first-of-its-kind Dental Entrepreneur Bootcamp set to take place in May 2020. My ultimate goal with DICE is to expand nationally.
CONNECTION
NOUN, CON·​NEC·​TION | KƏ-ˈNEK-SHƏN
I am Abimbola Oyindamola Oyeniyi. I stem from the Southwestern part of Nigeria and I identify as Nigerian American. I am making history by promoting oral health care amongst vulnerable populations and immigrants as I advance in my career as a dentist. My ultimate goal is to be an educator, practitioner, and a role model in both African and American communities who have little or no access to dental care. The legacy I am leaving at Penn dental is to make long lasting connections with my colleagues, teachers and create patient-friendly environment.
COMPOSURE
NOUN, COM·​PO·​SURE | KƏM-ˈPŌ-ZHƏR
My name is Jordan Oneil Alistair Reid. My culture, ethnicity, and heritage all stem from the island of Jamaica and I identify as such. I am making history by blazing the trail of achievement within my own family structure, leaving a positive example of what one can achieve through hard work and effort for those younger than me. The legacy I hope to leave at Penn dental is not only one of perseverance despite of and through the various situations that have arisen during my time at this institution, but also one of composure which is required to keep a leveled head and positive attitude through difficult times.
MALLEABLE
ADJECTIVE, MAL·​LEA·​BLE | ˈMA-LĒ-Ə-BƏL L
My name is Faith Murunga Simiyu. My history originated in a small village in Kenya where I was born to a father and mother of four from the Kikuyu and Luo tribe. Yes, I know where I come from. It's just as important to me as where I'm going. The hands I've dealt with have molded me to be strong, soft, and resilient. There's nothing I can't handle with the strength of my community holding me up on its shoulders. I'm making history being the first of my family to follow this path I set out for myself. The legacy I am leaving at Penn dental is only up to me.
EFFERVESCENT
ADJECTIVE, EFFERVESCENT EF·​FER·​VES·​CENT | ˌE-FƏR-ˈVE-SᵊNT
My name is Joanna Marie Ferguson (D'21). My history is a winding combination of colors and cultures. From Lynchburg roots sprouts Black, White, African, American. Swirled with Indian and Chinese, melded with indigenous peoples to Guyana, South America. My history is layered. I am making history by living my life in widening circles. Connecting, engaging and making memories with as many as I can reach. The legacy I am leaving at Penn Dental is one of warmth, advocacy, change and love.
RADIATE
VERB, RA·​DI·​ATE | ˈRĀ-DĒ-ˌĀT
I am Elaf Omar Saeed (GED'19, D'20). My ethnic background stems from the country of Sudan and I identify as Sudanese American. I am making history by using the strength within me to help others find theirs. As a teacher, I helped my former high school students find their strengths through learning and they helped me find the strength of sympathy. As a painter, I am depicting the strength of women and their stories while reflecting on mine. My goal as a dentist is to help others find strength through improved oral health so that their smiles will radiate with confidence! My legacy as a dental professional is just beginning, Penn Dental is the catalyst.