Periodontics Resident/DScD Candidate Dr. Dennis Sourvanos Recognized for Research
July 22, 2021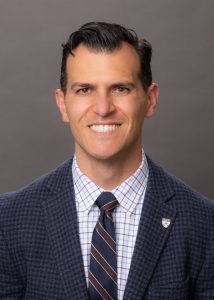 Philadelphia — Helping to advance the science and practice of periodontics, Penn Dental Medicine periodontics resident and DScD candidate Dr. Dennis Sourvanos (GD'23) has been recognized for his research – receiving the 2021 AADR William B. Clark Fellowship Award in Clinical Periodontal Research and selected to participate in the Perelman School of Medicine Institute for Translational Medicine Applied Therapeutics (ITMAT) Certificate Program in Translational Research and the Regulatory Sciences. Both build upon his goal of ultimately pursuing a career in academic dentistry and research.
"My long-term goal is to become an independent investigator in the academic setting while playing a role in public policy initiatives," says Dr. Sourvanos. "As a clinician scientist, one has the opportunity to make a direct tangible impact in the national and international arenas."
Dr. Sourvanos, a student in the combined graduate periodontics and DScD program, has been active in research throughout his time at Penn Dental Medicine. His research co-mentors have developed a program focused on translational clinical research. He has worked under the mentorship of Periodontics Program Director Dr. Joseph Fiorellini to help develop delivery protocols for novel biomaterials in the preclinical model, evaluating the effects of laser stimulation on dental implant osseointegration in the animal model, and analyzing implant geometries and subsequent effects of primary implant stability in the human model. Concurrently, he became a student researcher within the School's Center for Clinical and Translational Research (CCTR). At the CCTR, he joined the study team for the NIH-funded ARMOR trial under the leadership of the Center's Director, Dr. Patricia Corby.
"As a clinical interventionist in this trial, I have been able to expand upon my formal training in non-surgical and surgical periodontology, to further understand the mechanistic aspects of radiation-induced oral mucositis lesions," notes Dr. Sourvanos.
The competitive AADR Grant Fellowship Award is designed to support a postdoctoral-level researcher in pursuing clinical research to learn a state-of-the-art methodology in the field of oral health. Dr. Sourvanos was selected for a project titled, "A Novel 3D Preclinical Model to Assess Efficacy of Photobiomodulation (PBM) on Alveolar Ridge Preservation, Subsequent Bone and Intraoral Tissues." The project is a collaboration between the labs of Drs. Fiorellini and Corby, and the Dr. Tim Zhu Lab at the Hospital of the University of Pennsylvania. It is also the focus of Dr. Sourvanos' research for the DScD program.
"We will investigate the role of photobiomodulation therapy on the human surgical dental extraction model," explains Dr. Sourvanos. "We have been able to develop a foundational novel 3D silicon study model that can be developed to incorporate various surgical techniques. I hope to substantiate the potential for photobiomodulation therapy as an adjunct biotherapeutic treatment for soft and hard tissue healing."
The ITMAT Certificate Program in Translational Research and Regulatory Sciences, which Dr. Sourvanos entered in May, will further support this research as well, providing an opportunity to gain expertise in the regulatory process for the development of therapeutic protocols.
The ITMAT Certificate Program is an NIH-funded training program (scholar TL1TR001880), through the National Center for Advancing Translational Sciences of the National Institutes of Health.