Penn Dental Medicine's Dr. Yu Zhang Named to 2022-23 Cohort of Penn Fellows
July 15, 2022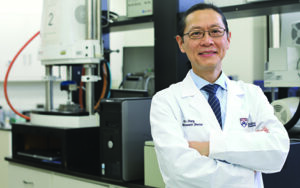 Philadelphia — Dr. Yu Zhang, Professor, Division of Restorative Dentistry in the Department of Preventive & Restorative Sciences, has been named to the 2022-23 cohort of Penn Fellows, one of 16 mid-career faculty members selected this year from throughout the University of Pennsylvania for this honor.
The Penn Fellows program, run out of Penn's Office of the Vice Provost for Faculty, is designed to provide a select group of developing campus leaders with an opportunity to build University-wide networks over the course of an academic year. Begun in 2009, it includes opportunities to build alliances across the University, meet distinguished academic leaders, think strategically about University governance, and consult with Penn's senior administrators. Candidates are nominated by Penn's deans and department chairs.
Dr. Zhang joined the Penn Dental Medicine faculty in July 2020, coming to Penn from the New York University College of Dentistry (NYUCD) where he had been part of the faculty since 2005, most recently serving there as Professor in the Department of Biomaterials and Biomimetics.
A leading authority in dental biomaterials, Dr. Zhang brings a background in physics and material science to his research with a particular focus on dental ceramics. A widely published and highly funded researcher, Dr. Zhang has had over 15 years of continuous support from the National Institutes of Health (NIH) as well as significant grant funding from the dental industry and the National Science Foundation. Building on his current NIH-sponsored research programs that focus on the development of strong and translucent dental zirconia and improving the fracture resistance of all-ceramic prostheses, Dr. Zhang looks to further increase the longevity of ceramic dental prostheses using novel manufacturing technologies, including ductile grinding, 3D printing, and ultra-fast sintering.
"I am grateful to have been nominated for this exciting opportunity and honored to be selected as a Penn Fellow," says Dr. Zhang. "I look forward to expanding my interactions throughout the University and helping to strengthen and build upon Penn Dental's collaborations with other Penn Schools."
The core of the Fellows program is the Provost's Leadership Academy, a series of sessions on topics important to academic administration, including communications, personnel management, negotiation, budgeting and resource management, and diversity and inclusion. The program also includes conversations, scheduled over the course of the year, with Penn leaders. The program will begin in Fall 2022 and conclude in Spring 2023.