Dr. Marshall Padilla Selected for AADOCR MIND the Future Program
September 26, 2022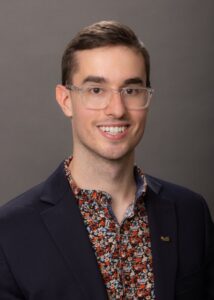 Philadelphia – Dr. Marshall Padilla, a current NIDCR T90 postdoctoral fellow within the Center for Innovation & Precision Dentistry (CiPD) – Penn Dental Medicine's collaborative center with Penn Engineering — has been selected to be part of the American Association for Dental, Oral, and Craniofacial Research (AADOCR)'s Mentoring an Inclusive Network for a Diverse Workforce of the Future (AADOCR MIND the Future) program. This class of 2022-2023 — 11 researchers from across the country – is the third cohort of the MIND the Future program.
"We are thrilled for Marshall in being selected, in an open competition, for this amazing opportunity sponsored by NIDCR and organized by the AADOCR, the premier scientific association for dental and craniofacial research," says Dr. Michel Koo, Co-director of the CiPD and Professor, Department of Orthodontics/Divisions of Pediatrics and Community Oral Health. "As a member of CiPD's first T90 training program cohort, he will be able to bring his unique work and bioengineering background as well as learn and network with other peers in the dental field across US and globally. More fellows will be inspired to apply for the MIND the Future program"
The primary goal of AADOCR MIND the Future — an NIDCR-funded program — is to establish a mentoring network that will support a diverse pool of early career investigators, including individuals from diverse backgrounds, in developing independent research careers dedicated to improving dental, oral, and craniofacial health.
"Dr. Padilla is embarking on a journey with 10 other early career scientists designed to strengthen grant writing skills and deepen understanding of the NIH peer-review process, among other skills vital to a successful career in academia," says Dr. Christopher Fox, CEO of AADOCR and Co-PI of the MIND the Future program. "We welcome Dr. Padilla's unique bioengineering background to the program and look forward to his contributions."
Padilla came to the CiPD training program earlier this year with a Ph.D. in Chemistry from the University of Wisconsin-Madison. He is currently a postdoctoral fellow in the lab of Dr. Michael J. Mitchell of Penn's Department of Bioengineering, where his research focuses on developing new materials to enhance the efficacy and safety of biological therapeutics. While passionate about research, he also has a strong interest in developing mentoring relationships and in teaching. At Wisconsin, Marshall earned a certificate in research, teaching, and learning, in which he conducted a research project on developing positive metacognitive practices in introductory organic chemistry. Additionally, he taught a course on mentoring in a research setting, and is passionate about promoting diversity and inclusiveness in biomedical sciences.
"My long-term goal is to become a professor and engage in both high-caliber research and high-quality teaching," says Marshall. He is now working with Dr. Shuying (Sheri) Yang, Associate Professor in Penn Dental Medicine's Department of Basic & Translational Sciences, to develop lipid nanoparticles, the same technology used to deliver mRNA in COVID-19 vaccine, for treatment of oral cancer.
"We are thrilled to have Dr. Padilla among the CiPD's NIDCR T90 postdoctoral fellows and this opportunity to expand his professional development is well deserved," adds Dr. Mark S. Wolff, Penn Dental Medicine's Morton Amsterdam Dean.
For the next year as part of the MIND the Future program, Padilla will engage in several educational activities and interactive opportunities with mentors to support his research and career development. For example, he will have an opportunity to participate in an NIH Mock Study Section (with actual program officers and NIH reviewers) to give a full hands-on experience of NIDCR grant review process. Once the mentees complete the program in September 2023, they will continue as program alumni and remain engaged in the program.