Dean Mark Wolff Receives Shils Entrepreneurial Fund Innovation Award
October 20, 2022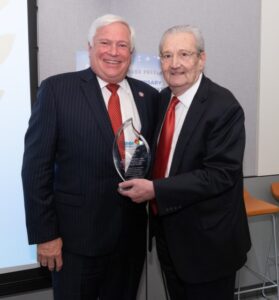 Philadelphia – Penn Dental Medicine's Morton Amsterdam Dean, Dr. Mark S. Wolff, has been recognized by the Shils Entrepreneurial Fund, Inc. as one of this year's recipients of its Innovation Awards. These annual awards recognize individuals, organizations, and programs that have made a significant impact on the oral health community and public health overall. This year's awards were presented at a ceremony held October 19 at Penn Dental Medicine, which also marked the Shils Fund's 20th anniversary,
"For 20 years, the Shils Foundation has identified, and helped elevate, individuals who are making a difference in oral health," says Steve Kess, President, Shils Fund and Vice President, Global Professional Relations, Henry Schein. "Together, we will continue to recognize, develop, and connect oral health care's most innovative minds with the right leadership."
Dean Wolff, one of four recipients this year, received the Cohen-Volpe Award, which honors Dr. D. Walter Cohen and Dr. Anthony Volpe, and is given to those who have made innovative strides in the health care space. In particular, the award recognized Dean Wolff's innovative approach to re-establishing the generational relationship between Hebrew University and University of Pennsylvania School of Dental Medicine, and for outstanding leadership on behalf of individuals and communities in need.
Penn Dental Medicine renewed ties with Hebrew University-Hadassah School of Dental Medicine in Jerusalem, Israel, in 2019, when Penn Dental hosted a delegation from Hadassah for a two-day program and Dean Wolff signed a Memorandum of Understanding (MOU) to facilitate collaborative exchange and research with faculty and students. The gathering included meetings with faculty counterparts from both schools and a continuing education program and also celebrated the late Dr. D. Walter Cohen, Dean Emeritus of Penn Dental Medicine, who had close ties to Hebrew University over his lifetime.
While in 2019 it was anticipated that the two schools would meet annually, the pandemic put those plans on hold until this year when Hebrew University-Hadassah School of Dental Medicine will be hosting a collaborative meeting with Penn Dental Medicine. Next week, Dean Wolff and a group of faculty and staff will be travelling to Israel for a multi-day conference focused on improving care for persons with disabilities. As part of the trip, the group will visit Shalva, a national center located in Jerusalem that annually provides comprehensive services to thousands of people with disabilities from infancy to adulthood from the entire spectrum of Israeli society.
In addition, in September, Penn Dental Medicine welcomed three dental students from Hebrew University for a two-week immersion program at the School.
"It is an honor to receive this award and celebrate our ties with Hebrew University through it," says Dean Wolff.
The other three recipients of the Innovation Awards included Dr. Wardah Inam, CEO, Overjet; Dr. Rena D'Souza, Director, NIDCR; and the Santa Fe Group, a non-profit organization.
The Shils Entrepreneurial Fund was founded in 2022, honoring the pioneering vision of Dr. Edward B. Shils, who had strong ties with Penn and the dental industry. Dr. Shils earned six degrees at Penn and was the founder of the Wharton Entrepreneurial Center. He served on Penn Dental Medicine's Board of Advisors from 2002 until his death in 2004, and for more than 50 years, he shared his entrepreneurial vision and passion for education with the dental industry as executive director of two trade associations – the Dental Manufacturers of America (now the Dental Trade Alliance) and the Dental Dealers of America.