Penn Dental Medicine Delegation Participates in Israel Conference
November 4, 2022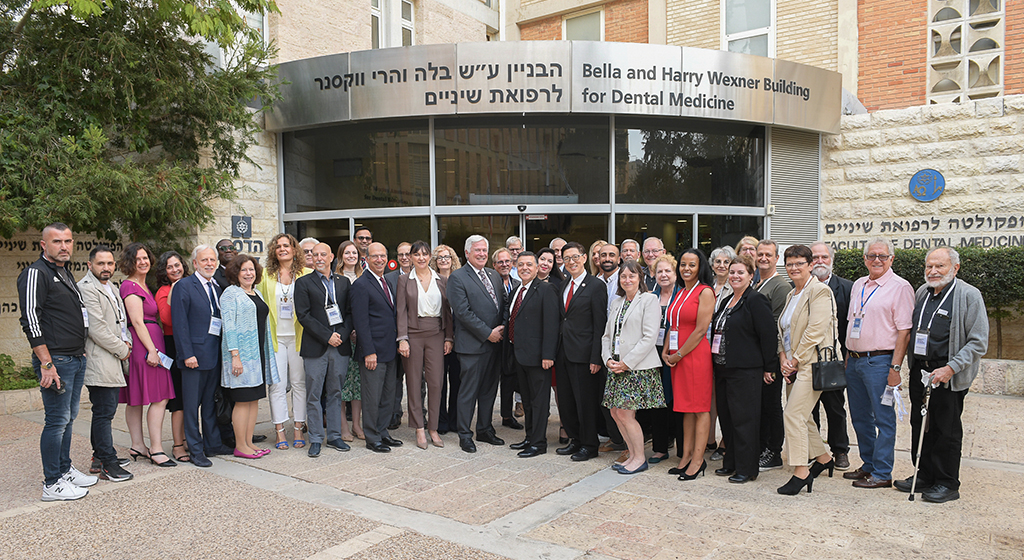 Philadelphia — A 26-member delegation from Penn Dental Medicine comprised of the Dean, faculty, administrators, alumni, and friends recently travelled to Israel to participate in a two-day conference on the topic of improving oral health care for persons with disabilities. The conference took place in Jerusalem, October 26-27.
The visit was in reciprocation of a similar delegation that came to Penn Dental Medicine in 2019 when the School renewed ties with Hebrew University-Hadassah School of Dental Medicine with the signing of a Memorandum of Understanding (MOU) to facilitate collaborative exchange and research with faculty and students. That gathering also launched the D. Walter Cohen Memorial Lecture, honoring the late Dr. Cohen, Dean Emeritus of Penn Dental Medicine, who had close ties to Hebrew University over his lifetime.
"It was tremendous to once again come together with our colleagues at Hebrew University, and continue to move forward the important issue of advancing oral health care equity for persons with disabilities," says Dr. Mark Wolff, Penn Dental Medicine's Morton Amsterdam Dean.
The first day of the conference took place at Shalva National Center in Jerusalem, which provides services to thousands of people with disabilities from infancy to adulthood as well as support for their families. The Shalva conference day was organized by Project Accessible Oral Health (PAOH), a public-private oral health advocacy organization for individuals with disabilities, which has its administrative home at Penn Dental Medicine.
The conference theme was "Making the Case for Health Justice for People with Disabilities." Dean Wolff, a co-cofounder and current Vice Chairman of PAOH, was a speaker as well as a moderator of a panel on "Dental Education for an Equitable Future." Among the other speakers was PAOH co-founder and current Chairman Steve Kess, Vice President of Global Professional Relations for Henry Schein, as well as Dr. Rick Rader, President of the American Association on Health and Disability. In addition, Dr. Lena Natapov, Chief Dental Officer of Israel, was among the presenters along with senior academic leaders from Hebrew University-Hadassah School of Dental Medicine, Tel Aviv University, Al-Quds University, New York University, Touro College of Dental Medicine, UT Health Science Center. Participants discussed prevention of oral disease in children and adults and issues of access to oral care. They also heard directly from stakeholders that included individuals with disabilities and their families.
The second day of the conference, the D. Walter Cohen Memorial Lecture, was held at the Hebrew University-Hadassah School of Dental Medicine. The program featured further discussion about oral health equity for persons with disabilities, including questions of policy, multidisciplinary approaches to care, integration of oral health care for persons with disabilities into dental school curricula, and other aspects of capacity building to expand access to care for this underserved population.
Dean Wolff was among the speakers on the topic of "The Common Need to Assure Oral Health Equity for Persons with Disabilities." In addition, Penn Dental Medicine faculty member Dr. Michael Glick, Executive Director of the School's Center for Integrative Global Oral Health, spoke on "Getting a Global Seat at the Table for Oral Healthcare for Persons with Disabilities," and Dr. Miriam Robbins, Director of the Care Center for Persons with Disabilities at Penn Dental Medicine, spoke on "Mastering the Essentials of Accommodation for Every Dentist/Dental Student to Assure Oral Health Equity for Persons with Disabilities."