Delta Dental Community Care Foundation Grant Supporting Patient Care
December 6, 2022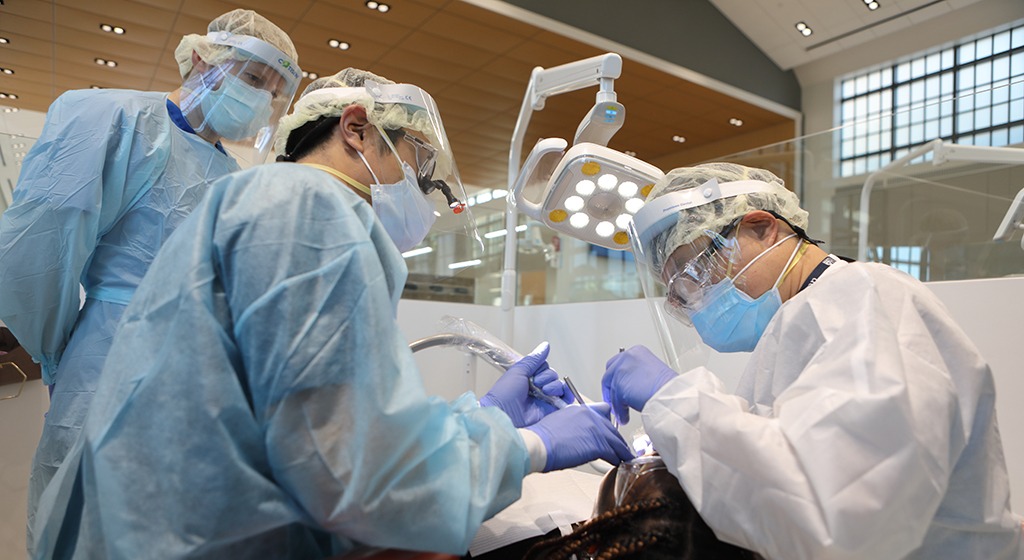 Philadelphia – "For the first time in years, I can smile. I am not embarrassed to face the world," said one patient. "The grant allowed me to have teeth and eat the foods I love," said another. "I couldn't have afforded teeth without this help," shared a third patient. This is just a sampling of how a Delta Dental Community Care Foundation grant, awarded to Penn Dental Medicine in support of treatment needs, is impacting patients and their overall health.
Now near its mid-point, this three-year, $600,000 grant ($200,000 per year over three years) is providing patients the opportunity to get care they otherwise could not afford. To date, a total of 316 Penn Dental Medicine patients have received treatment through support from the grant.
"The feedback from patients has been tremendous," says Dr. David Hershkowitz, Chief of the Division of Restorative Dentistry and the Principal Investigator for the grant. "It is enabling treatment that not only improves the quality of life, but in many cases, is a necessity of life."
Hershkowitz explains that the available funding is divided among the six clinical care/instructional groups (Primary Care Units) within the School's DMD general restorative clinics and the Personalized Care Suite within the Care Center for Persons with Disabilities. The respective directors within the Personalized Care Suite and the PCUs along with students providing care identify patients who could benefit from procedures they may not be able to afford on their own. Patients of all ages can receive care through the grant.
Patient feedback is being tracked as part of the grant. Patients who are identified as candidates for care through the grant are asked to make a statement on why the treatment would help them, and once the treatment is completed, they are also asked if it met their expectations.
"The patients who have benefitted from this grant are very grateful," says Dr. Margit Maggio, a PCU Director. "In most cases, the treatment rendered has changed their lives significantly."
Three students in Dr. Maggio's PCU who have had patients receive full and partial dentures agree that the impact for their patients has been profound.
"My patient was in dental pain and needed extractions, but aesthetic concerns and financial issues prevented her from pursuing treatment," says fourth-year-student Kristi Truong. "By relieving the financial burden with this grant, she was able to have dental treatment that relieved her pain and receive immediate dentures, which has given her better oral and overall health. Her personal appearance was also improved that gave her more confidence. This could not have happened without the Delta Grant."