Penn Dental Medicine Student Delegation Visits Hebrew University
January 19, 2023
Philadelphia- Danielle Silver (D'23), Rachel Shi (D'24), and Alvin Zad (D'24), three DMD students at Penn Dental Medicine traveled to The Hebrew University of Jerusalem, Hadassah Ein Kerem Campus for a two-week dental immersion program as part of Penn Dental Medicine's International Dental Student Exchange Program. This exchange program allows dental students studying at partnered dental schools in foreign countries to visit Penn Dental Medicine for a number of weeks. In some cases, DMD students from Penn Dental Medicine can do a similar type of exchange at a foreign dental school. This past summer, Yuval Shalit, Eva Cohen Solal, and Raphaelle Emram, three students from the Hebrew University – Hadassah School of Dental Medicine (HUSDM), Jerusalem visited Penn Dental Medicine as part of the program.
"Alvin, Rachel, and Danielle were a great choice!" says Dr. Stella Chaushu, Vice Dean of Academic Affairs and International Relations at HUSDM. "It was such a pleasure talking to them and hearing about their learning experience with us and their feedback so we can learn for future Penn Dental Medicine-HU exchange programs." While in Jerusalem, the students participated in multiple seminars and observed various series and clinical experiences for both the predoctoral and postdoctoral programs at Hebrew University. "We participated in all the residency programs that the school provided, but the main highlight for me was the experience and shadowing in the Operating Room with the oral surgery department" mentioned Alvin Zad, a third-year student.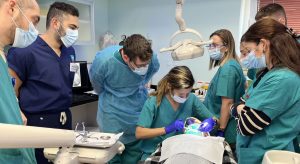 "It is really incredible to see the similarities in disease between our population in America and the Mediterranean population," says Danielle Silver, a fourth-year student at Penn Dental Medicine. "It was also very interesting to see the differences in rates of diseases that we may not see as often in America."
"My experience in Israel truly humbled me as a dental student and as a world citizen" added Rachel Shi, a third-year. "Not only was I able to observe at the Hebrew University-Hadassah School of Dental Medicine, but I also had the privilege of immersing myself in a novel and abundant culture."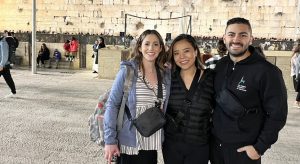 In addition, Danielle, Rachel, and Alvin also participated in a health seminar, where they saw evidence-based public policies implemented in Israeli society. "Healthcare policy has widespread implications and is something I hope to work on in the future," says Silver, who is also obtaining a Master of Public Health (MPH) degree along with her DMD.
Along with shadowing at HUSDM, they also spent a day at the Shalva Center, where they helped instruct on how to give proper dental care to those with disabilities. After spending time at Shalva, they participated in a Chanukah (Hannukah) celebration hosted by the Graduate Bio-Medical Sciences Program.
"Our sincere thanks to HUSDM for being such gracious hosts," says Dr. Uri Hangorsky, Associate Dean for Student Affairs, who oversees the exchange program. "We look forward to our continued partnership with HUSDM throughout the future."
Danielle, Rachel, and Alvin will be presenting on their international exchange experience on 2/7/2023 from 12-1 PM in the Penn Dental Medicine Shattner Pavilion. "We welcome the community to join the event on February 7 from 12-1 PM and learn about the importance of international exchange programs," says Menty Bayleyen, Senior Associate Director of Admissions at Penn Dental Medicine.
Penn Dental Medicine plans to continue adding new schools to the program from around the world. "We are in communication with universities worldwide such as from Germany, Poland, Uganda, India, Pakistan, Egypt, Portugal, New Zealand, and the UK. All have expressed interest in our international dental student exchange program," says Bayleyen. These programs will involve a two-week visit with observation in different clinics with some participation in lectures and seminars. "The plan for our students going to the other countries is still in its infancy stages," adds Hangorsky.