New Fund Created to Support Veterans' Care
January 25, 2023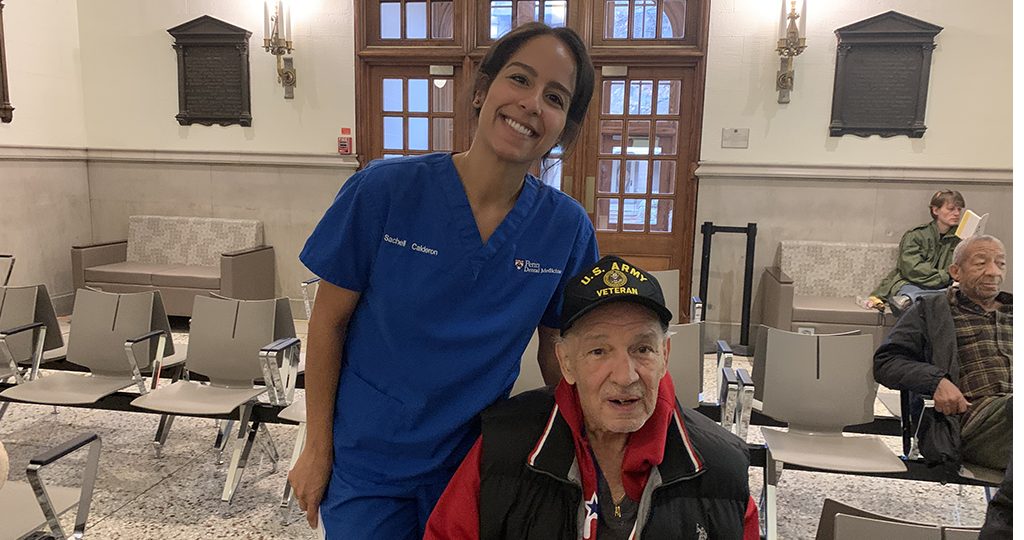 Philadelphia – Veterans coming to Penn Dental Medicine for dental care now have a new resource to help cover the costs of their treatment – the Penn Dental Medicine Veterans Dental Care Fund. This new Veterans Fund was recently established through a $100,000 gift from a Penn Dental Medicine alumnus and his wife with hopes that it will inspire fellow alumni to support the Fund and help it continue to grow.
"This generous donation will have a far-reaching impact on the lives of the Veterans we serve," says Penn Dental Medicine's Morton Amsterdam Dean, Dr. Mark S. Wolff. "We are tremendously grateful to have this Fund as an ongoing resource to help those Veterans in need."
Veterans will be eligible to benefit from the Fund depending on their treatment plan needs and financial limitations.
Having served as an Army officer himself, the alumnus who made the donation (who wishes to remain anonymous) shares that he has seen first-hand through his service and years of practicing dentistry the need among many Veterans for help with their oral health care.
"Veterans often have limited dental coverage through the VA," he says. "We felt that by starting this Fund, it was a way we could support them in appreciation of their service and help improve their quality of life. Better oral health will help them live healthier, happier, and more secure lives."
He recalls that his earliest experience caring for a Veteran had a profound effect on him. As a dental student, one of his full denture patients was an Army Veteran – a man in his 40s who had lost all his teeth due to a combination of poor oral hygiene, substance abuse, and limited financial resources. "He was so appreciative of the dental care we provided," he says, "and we hope this Fund can not only aid similar Veterans in desperate need of dental care, but also inspire current dental students to help the Veterans who risked their lives for our country."
According to the 2020 census, there are approximately 56,000 Veterans in Philadelphia County alone, and in recent years, Penn Dental Medicine has expanded its effort to reach Veterans in need of a dental care home. The Fund's donors hope that with grass-roots support from other alumni, the Fund will expand to be provide even greater support for Veterans coming to the School for care.
"Donations to this fund will go directly to servicemen and women who otherwise would not be able to afford urgently needed dental care," notes Penn Dental Medicine Vice Dean for Institutional Advancement, Elizabeth Ketterlinus. "Everyone benefits from the selfless services of these veterans. They deserve not only our gratitude, but our ongoing support in times of need."
Gifts to the Penn Dental Medicine Veterans Dental Care Fund can be made online and for more information on supporting the Fund, contact Elizabeth Ketterlinus, Vice Dean for Institutional Advancement, ekett@upenn.edu.