Penn Dental Medicine's SNDA Hosts Black History Month Celebration
February 23, 2023
PHILADELPHIA- Penn Dental Medicine's Student National Dental Association (SNDA) hosted their annual Black History Month Celebration in Corby Auditorium with this year's theme being "Black Voices at Penn," meant to bring together various voices from across Penn to discuss what it means to be black at the University.
"Historically, SNDA was created to further the academic and social environment of minority students in the dental field. This event meant displaying our culture to participants" says SNDA's President, Makuachi Ekwunife. "It highlighted the sacrifices that have been made and challenges that have been overcome even to have this experience."
The event began with welcome remarks from the President of SNDA, Makuachi Ekwunife (D'24) followed by remarks from Penn Dental Medicine's Morton Amsterdam Dean, Dr. Mark S. Wolff, Menty Bayleyen SNDA's Faculty Advisor and Senior Associate Director of Admissions, and Keynote Speaker, Dr. Lewis Proffitt (D'73, WG'80). During his powerful speech, Dr. Proffitt discussed the importance of black voices and representation in the field of dentistry, and inequities faced by minorities and gave a call to action to become more involved in uplifting marginalized voices.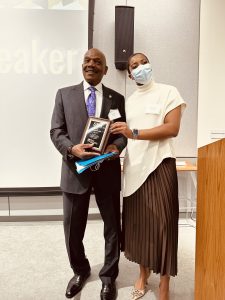 Upon graduating from Penn Dental Medicine in 1973, Dr. Proffitt earned his MBA from the Wharton School of Business and opened several dental clinics across New Jersey and Pennsylvania. He also served on the Penn Dental Medicine Board of Advisors for more than 15 years.
SNDA hosted four panelists from across Penn as part of their event. Mr. Mark Mitchell, Associate Dean for Admissions at Penn Dental Medicine; Dr. Amalia Daché, Associate Professor of Higher Education at the Graduate School of Education; Reverend Charles (Chaz) Lattimore Howard, University Chaplain and Vice President for Social Equity & Community at Penn; and Sharon Smith, Associate Vice Provost for University Life. Moderated by Christopher Hudson-Boyd (D'25) and Tanaya Williams (D'25), both Hudson-Boyd and Williams posed challenging questions to the panelists about their experiences at Penn and in the world and where they see various challenges faced by students of color going in the future.
Brittney Antwi (D'25) and other members of SNDA presented three members of the Penn Dental Medicine community with the faculty and staff awards. Dr. Adeyinka Dayo, Assistant Professor of Oral Medicine, Officer Markez Bostic of Allied Universal Security, and Officer Linda Woodberry, Site Supervisor of Allied Universal Security were all honored by SNDA for their excellence in student engagement and meaningful contributions to the Penn Dental Medicine Community.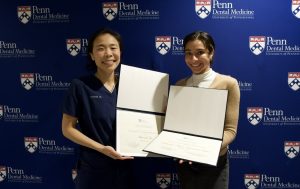 Jackie Lima (D'23) and Amanda Gu (D'23) were also honored and given awards presented by Dr. Beverly Crawford, Director of Diversity and Inclusion and Associate Professor of Clinical Dentistry for fostering a diverse, equitable, and inclusive community at Penn Dental Medicine.
"I am pleased that Black History Month is now embodied in our school's culture," said Bayleyen. "Words cannot express how proud I am of my advisees. The event was a reflection of their hard work, dedication, and creativity and I hope that this event served as a force for reflection, better understanding, and a commitment to personal and collective growth."
To learn more about events at Penn Dental Medicine, visit www.dental.upenn.edu/events and keep up with Penn SNDA by following them on Instagram.
More photos from the event are available on Facebook. View the full gallery by clicking here.