2023 Delta Dental Community Scholars Named
March 28, 2023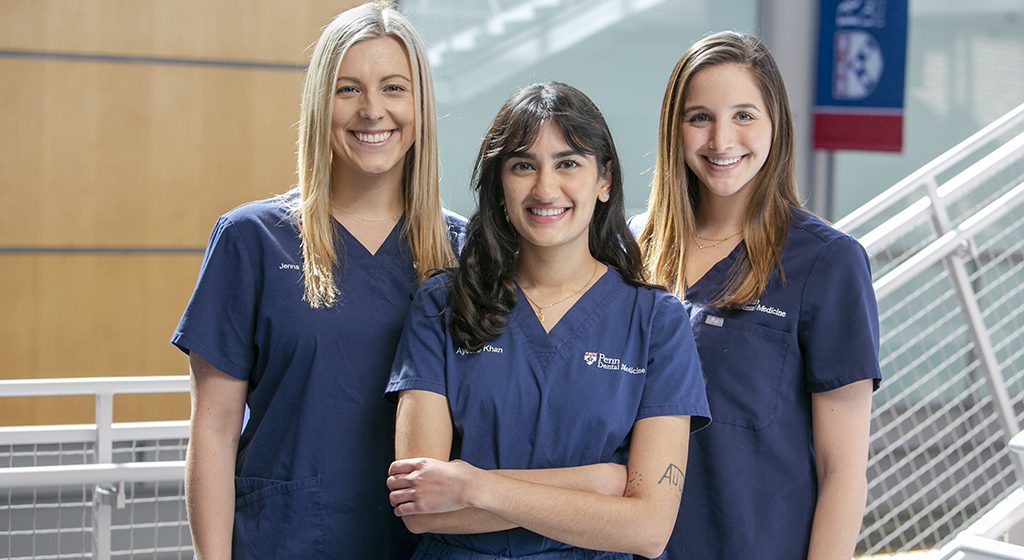 Philadelphia — Three Penn Dental Medicine students have been named 2023 Delta Dental Community Scholars, each receiving a sizeable scholarship in recognition of their community service, academic achievement, and future plans to work with vulnerable populations after graduation. Since its inception in 2019, the program has awarded scholarships to 17 talented Penn Dental Medicine students who have expressed a commitment to helping expand access to oral health care for hard to reach populations. This year's recipients include Julie Berenblum (D'23), Ayesha Khan (D'23), and Jenna Panek (D'23).
Julie Berenblum (D'23)
Passionate about engaging with individuals in the local community, Berenblum co-founded Penntorship in 2020, a mentorship program between Penn Dental Medicine students and local West Philadelphia High School students. The goals of the program are to foster meaningful relationships to enhance personal growth, academic success, and engagement in post-secondary exploration and to serve as an outlet for Penn Dental Medicine students to connect with others and engage in community activities. Since creating Penntorship, over 100 Penn Dental Medicine students have served as mentors for high school students.
Berenblum is also part of the Community Honors program, "First Five," treating pediatric patients and educating them and their caregivers on the importance of dental health. As part of the program, she conducted research to assess parents' willingness to receive systemic health advice from their child's dentist and to figure out how to provide families the essential knowledge that will allow them to manage their dental health.
After graduation, she will be pursuing a General Practice Residency program at the Manhattan VA, where she is looking forward to interacting with a diverse patient population in a hospital setting.
Ayesha Khan (D'23)
Khan first experienced community-based dental care when volunteering as a Spanish interpreter at a medical and dental clinic before entering dental school. "Watching patients' lives change because of preventive measures in dentistry made it clear to me then that I needed to heavily incorporate preventive, community-based dentistry into my work," she recalls.
Her activities at Penn Dental Medicine have also included the "First Five" honors program, conducting oral health exams and prophylaxis on children under 5 years old and providing guidance and nutritional counseling to parents. Khan also participated in a pop-up clinic for recently settled Afghan refugees.
In addition, she has been active in the student chapter of the American Association of Public Health Dentistry (AAPHD), serving as Chair of Public Relations as well as President, working with board members to increase awareness of the issues plaguing the U.S. health care system.
After graduation, Khan will be pursuing a Pediatric Dental Residency at One Brooklyn Health, where she is looking forward to working with children in a hospital setting and learning to tackle disparities in access to healthcare. "I truly admire and enjoy the aspect of pediatric dentistry that prevents disease and educates children and parents on how to improve their oral health status," she says.
Jenna Panek (D'23)
Panek recalls the first time she considered a dental career was during a service trip to the Dominican Republic while in high school. She saw first-hand the lack of oral hygiene in the local community, returning the following year and organizing oral health promotion activities. "I facilitated tooth brushing exercises and the children's level of excitement could not be matched," she recalls. "In that moment, I recognized that it is my life's mission to advance oral health care in underserved communities."
Panek is a National Health Service Corps Scholar, who will practice in an underserved community after graduation. In addition, she has been part of the Community Oral Health Honors Program, working with children and parents as part of the "First Five" program and at Philadelphia FIGHT. She too has been involved with Penntorship, the mentorship program to engage with West Philadelphia High School students.
In addition, Panek is this year's LEND Fellow at the Children's Hospital of Philadelphia, gaining interdisciplinary training in working with children and adolescents with developmental disabilities.
She will be pursuing a Pediatric Dental Residency at Cincinnati Children's Hospital Medical Center, where she plans to further develop her knowledge and understanding of pediatric dental care, while placing special emphasis on the treatment of children and adolescents with special health care needs.