School's Center for Integrative Global Oral Health Presents Global Oral Health Forum 2023
April 6, 2023
Philadelphia — Penn Dental Medicine's Center for Integrative Global Oral Health (CIGOH) and Fundación ADM, Institución de Asistencia Privada recently brought together leaders from around the world for the Global Oral Health Forum 2023, held March 30-31 in Merida, Mexico. The main objective of the forum was to encourage and facilitate a dialogue between major stakeholders in the oral health community.
"We had extremely productive conversations," says Dr. Michael Glick, Executive Director of CIGOH. "Our invited speakers and panelists were asked to think about how we can come together to help break the silos that exist within the oral health community, unite around issues affecting us all, and speak with a unified voice."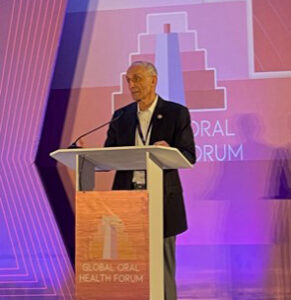 The two-day program included sessions on equity and disabilities, the United Nations Sustainable development goals and universal health coverage, research and education, and public health initiatives and workforce. Each session featured a series of short talks by invited speakers and a panel discussion. The Forum participants included a broad spectrum of individuals in leadership roles in dental education and industry as well as organized dentistry.
This was the inaugural international conference presented by CIGOH, Penn Dental Medicine's policy center that launched in 2021. There will be many more global conferences hosted in the next months. A meeting of the CIGOH Advisory Board also took place at the conference.