Penn Dental Medicine Celebrates Class of 2023 Commencement
May 16, 2023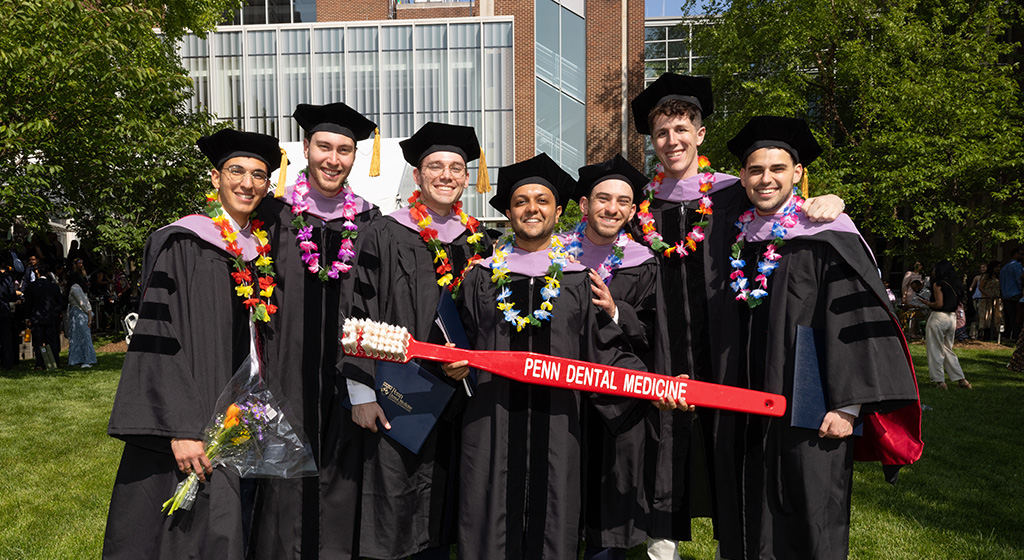 Philadelphia – Penn Dental Medicine celebrated the accomplishments of the Class of 2023 at its 145th Commencement Ceremony, conferring Doctor of Dental Medicine (DMD) degrees to 177 students, along with 25 master's and two Doctor of Science in Dentistry (DScD) degrees. The commencement was held May 15 at Penn's Irvine Auditorium.
"Congratulations to the Class of 2023 – you are all graduating as accomplished scholars and clinicians, skilled in the healing arts," said Penn Dental Medicine's Dean, Dr. Mark S. Wolff, at the ceremony. "You join historic alumni who have demonstrated insight, innovation, and impact for generations of patients."
The ceremony opened with the procession of graduates led by two members of the class playing "Pomp and Circumstance" — Dr. Alisha Song on the piano and Dr. Tiana Piscitelli on the violin.
The program included a welcome by Dr. Uri Hangorsky, Associate Dean for Student Affairs, followed my remarks from Dean Wolff and this year's guest speaker, David Kochman, Chief Corporate Affairs Officer for Henry Schein, Inc. In his position with Henry Schein, Kochman is responsible for the company's global professional relations, public policy, government relations, corporate social responsibility, ESG + sustainability, D&I, and team engagement activities, as well as the management and administration of projects and initiatives originating from the Office of the CEO, including many impacting different aspects of the healthcare profession as well as the company's outreach efforts. In his remarks, he challenged graduates to focus on seeking opportunities to make an impact.
In addition, Capt. Sean Meehan, a Penn Dental Medicine alumnus and Dean of Naval Postgraduate Dental School, commissioned the 11 students from the Class of 2023 who will be joining the military.
Class President, Dr. Eric Michael Verdeyen, addressed his fellow graduates, encouraging them to continue to apply three qualities they developed through the dental school experience – courage, humility, and gratitude.
Faculty participating in the hooding and presentation of diplomas included Dr. Faisan Alawi, Associate Dean for Academic Affairs; Dr. Bekir Karabucak, Chair and Professor of Endodontics and Director, Division of Advanced Dental Education; Dr. Mark Koup, Clinical Associate Professor of Restorative Dentistry and Director of Comprehensive Care Clinics; Dr. Fusun Ozer, Associate Professor of Restorative Dentistry; Dr. Alicia Risner-Bauman, Associate Director, Care Center for Persons with Disabilities and Assistant Professor of Clinical Oral Medicine; and Dr. Tony Saito, Adjunct Assistant Professor of Pediatrics.
The ceremony was live streamed and the full program can be viewed again online – view ceremony >>.