Dean Mark Wolff Named 2023 DentaQuest Health Equity Hero
July 13, 2023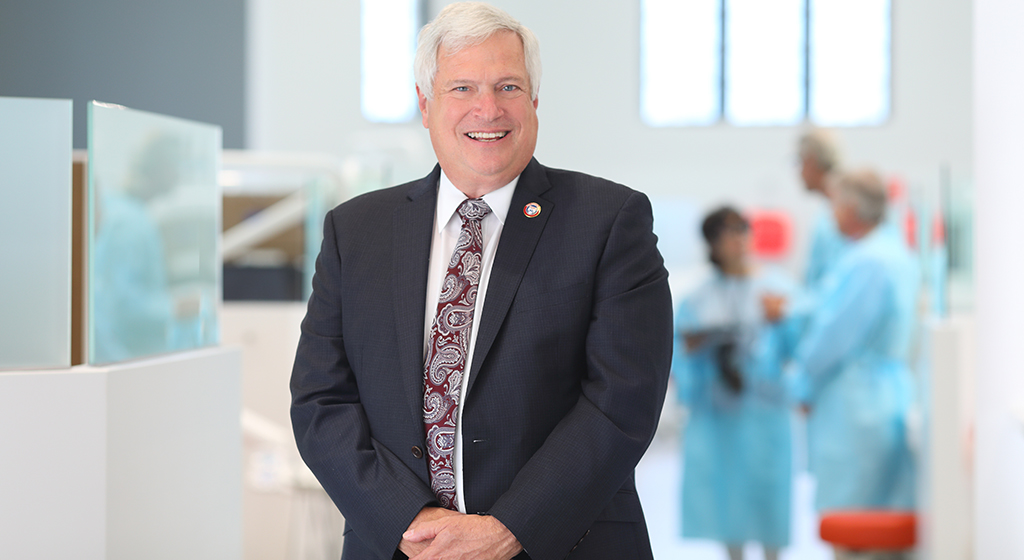 Penn Dental Medicine's Morton Amsterdam Dean, Dr. Mark Wolff
Philadelphia – Penn Dental Medicine's Morton Amsterdam Dean, Dr. Mark Wolff, has been recognized for his leadership in improving access to oral health care for individuals with disabilities as a recipient of the DentaQuest Health Equity Hero Award. This annual award honors individuals and organizations improving health care access for people with the greatest needs and fewest resources; 12 honorees were selected this year from across the country.
"The past several years have dealt all of us – but in particular those most in need – a difficult hand amid often tumultuous change. Our annual search for Health Equity Heroes provides an opportunity to call out the inspiring and tireless work of individuals and organizations who are making strides toward true health equity," said Steve Pollock, president of DentaQuest, part of Sun Life U.S. "These are inventive leaders whose actions have helped more people attain optimal health throughout their lives — people leading change amid entrenched and complex challenges to level the playing field and expand access to care."
A long-time advocate for persons with disabilities, Dean Wolff has served this population throughout his time as a practicing clinician and years as an educator. Upon assuming the Deanship of Penn Dental Medicine in 2018, he made educating students and practitioners in caring for individuals with disabilities a priority. Among the initiatives he has led is the opening of Penn Dental Medicine's Care Center for Persons with Disabilities in 2020, which now serves as the dental home for more than 7,000 patients and provides students the opportunity to gain immerse experience and competence in caring for individuals with disabilities.
In addition, the School launched a free continuing education series for practicing clinicians on caring for this population, and in collaboration with two other dental schools, Dean Wolff has initiated a new universal curricula for treating persons with disabilities as part of an American Academy of Developmental Medicine and Dentistry project.
"The vast majority of individuals with disabilities can be treated without anesthesia in general dental practices, so educating students and clinicians on caring for these patients is such an important part of bringing equity to every individual," says Dean Wolff. "I am honored and humbled to be part of DentaQuest's efforts to raise awareness of health equity issues and the importance of oral health to overall health and wellness."
DentaQuest will present Dean Wolff with the award as part of an event for Penn Dental Medicine faculty and staff in September. The $5,000 donation from DentaQuest in Dean Wolff's honor will go to the support of the School's Vulnerable Populations Clinic, another initiative launched by Dean Wolff in 2019, where students and faculty treat refugees and survivors of physical, psychological, and intimate-partner violence.