Dean Mark Wolff, Faculty Present at FDI World Dental Congress
October 3, 2023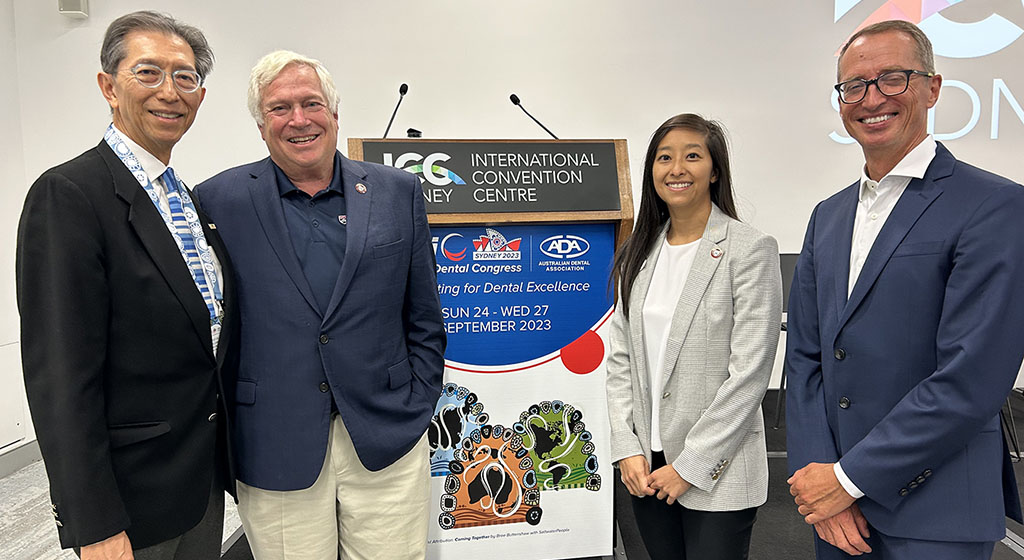 Philadelphia – Members of the Penn Dental Medicine community gathered with the global dental community at the recent FDI World Dental Congress (FDIWDC23) in Sydney, Australia with Dean Mark Wolff and faculty members Dr. Markus Blatz, Dr. William Cheung (D'81, GD'82), and Dr. Stefani Cheung (C'08, D'11) presenting as part of the scientific program.  Hosted by FDI and the Australian Dental Association, the FDIWDC23 brought together educators, researchers, and clinicians from around the world to share ideas, knowledge, and experiences through an extensive scientific program and exhibition over four days, September 24-27.
"It was tremendous gathering with other colleagues across borders and across disciplines," says Dean Wolff. "The depth of the scientific program was particularly notable and I congratulate Bill Cheung for his role in contributing to its planning." Dr. William Cheung, Adjunct Associate Professor of Restorative Dentistry and Emeritus member of the School's Board of Advisors, is Chair of the FDI Education Committee (9/2021 – 9/2024).
Dr. W. Cheung also participated in the program as part of the Young Dentists Forum — a new event this year designed to highlight popular topics in dentistry and provide an opportunity for early-career dentists and dental students to find out more about career development opportunities, develop their professional network, and learn about the work of FDI. Dr. W. Cheung led two panel discussions as part of the Forum — one on "What are my career perspectives outside of the general practitioner path?" and another on "How can my engagement with association work make a difference?"
Dean Wolff spoke was part of a panel on "Health through the Ages" and also presented a talk titled "Leader of a Team: It's the Only Way." Dr. Blatz, Professor and Chair of the Department of Preventive & Restorative Sciences, presented "The Zircona Resin Bonded Bridge: Where, When and How" along with a lecture in the Young Dentists Forum titled "The Evolution of Ceramics in Esthetic Implant Dentistry."
Dr. Stefani Cheung, Adjunct Assistant Professor, also presented as part of the Young Dentists Forum on "Management of Extraction Sockets in Implant Dentistry."
The World Dental Congress (WDC) is a flagship event for FDI.