Center for Innovation & Precision Dentistry Welcomes Inaugural Class to Training Program
May 2, 2022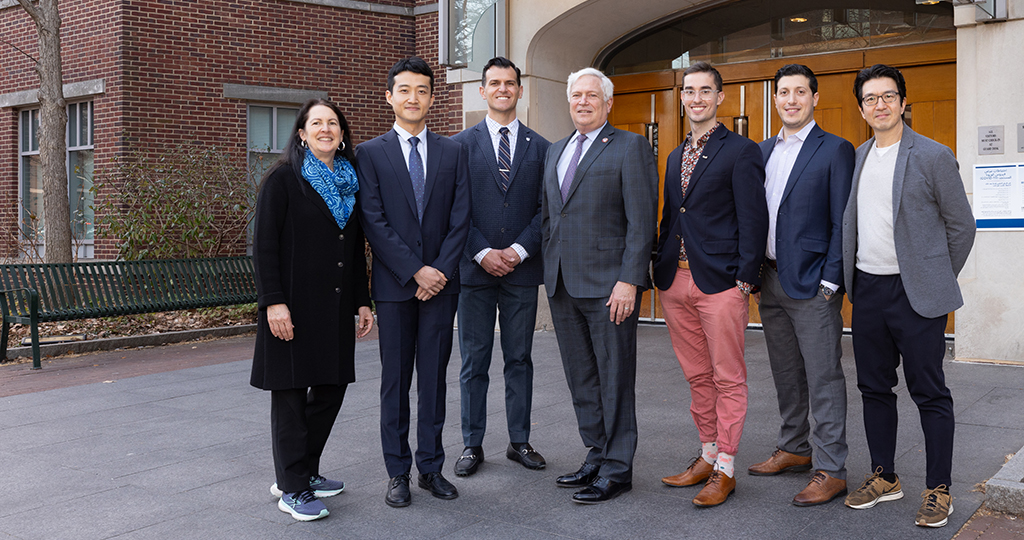 Philadelphia — With one of its key missions to develop a new generation of scientists at the interface of dental medicine and engineering, the Center for Innovation & Precision Dentistry (CiPD) has selected its inaugural class of fellows for its new postdoctoral training program. The CiPD was awarded a $2.5 million T90/R90 grant from the National Institute of Dental and Craniofacial Research (NIDCR) last summer to establish the program, recently naming this first cohort of fellows that includes Dr. Justin Burrell, Dr. Marshall Padilla, Dr. Zhi Ren, and Dr. Dennis Sourvanos.
"We're hoping this program will promote cross-pollination and create a culture between these two fields to help dentists develop innovative strategies with engineers," says Dr. Michel Koo, Founding Director of CiPD, who launched CiPD in 2021 with Co-Director Dr. Kathleen Stebe of Penn's School of Engineering and Applied Science. "Dentists can learn from engineering principles and tools, and engineers can understand more about the needs of the dental and craniofacial fields. We're providing a platform for them to work together to address unmet clinical needs and develop careers in that interface."
The NIDCR T90/R90 Postdoctoral Training Program aims to specifically focus on the oral microbiome, host immunity, and tissue regeneration, each of which ties into different aspects of oral health, from tooth decay and periodontal disease to the needs of head and neck cancer patients. To advance these areas, emerging approaches, from advanced materials, robotics, and artificial intelligence to tissue engineering, chloroplast- and nanoparticle-based technologies, will be leveraged.
As part of the two-year training, each postdoc will receive co-mentorship from faculty from each school in conjunction with a career development committee of clinicians, basic scientists, as well as engineers. These mentorships will be focused on research outcomes and readying participants to submit grants and compete for positions in academia or industry.
All four members of this first class bring unique interests to the program. Dr. Justin Burrell has focused his training and research to date on the nervous system and developing novel approaches to nerve repair. Burrell earned an M.S in Neuroscience from Tulane University, and in 2017, matriculated into the Bioengineering PhD program under Penn Medicine's Dr. Kacy Cullen, where he developed several tissue engineered constructs comprised of neurons and axons designed to maximize functional recovery following nerve repair.
During his postdoctoral training, he has worked under Dr. Anh Le, Chair of Penn Dental Medicine's Department of Oral & Maxillofacial Surgery an oral/maxillofacial surgeon, who has been studying the use of gingiva-derived stem cells in facial nerve repair.
"My goal during the CiPD T90 fellowship is to gain experience with the gingiva-derived stem cell source," says Burrell, "and continue the development of various clinically-translatable strategies for nerve repair to ultimately replace the broken tissue in the body with tissue engineered within the lab."
Dr. Marshall Padilla comes to the program with a Ph.D. in Chemistry from the University of Wisconsin-Madison. He is currently a postdoctoral fellow in the lab of Dr. Michael J. Mitchell of Penn's Department of Bioengineering. Padilla's research focuses on developing new materials to enhance the efficacy and safety of biological therapeutics. While passionate about research, he also has a strong interest in developing mentoring relationships and in teaching. At Wisconsin, Marshall earned a certificate in research, teaching, and learning, in which he conducted a research project on developing positive metacognitive practices in introductory organic chemistry. Additionally, he taught a course on mentoring in a research setting, and is passionate about promoting diversity and inclusiveness in biomedical sciences.
"My long-term goal is to become a professor and engage in both high-caliber research and high-quality teaching," says Marshall. He is now working with Dr. Shuying (Sheri) Yang, Associate Professor at the Department of Basic & Translational Sciences, to develop lipid nanoparticles, the same technology used to deliver mRNA in COVID-19 vaccine, for treatment of oral cancer.
As a dentist-scientist trained in microbiology and pediatric dentistry, Dr. Zhi Ren joined Penn Dental Medicine in 2019 as a postdoctoral fellow in the lab of Dr. Koo. His research focuses on understanding how bacterial and fungal pathogens interact in the oral cavity to form biofilms on teeth (dental plaque) that cause severe tooth decay in toddlers.
Through the CiPD R90 Training Program, Dr. Ren will be applying emerging imaging and computational approaches with new nanotechnologies to further understand mechanisms of biofilm microbiome interactions and develop clinically translatable approaches to precisely target disease-causing oral biofilms.
"This program provides me with unimagined opportunities to apply advanced engineering and computational tools to make new fundamental discoveries and address unmet needs in oral health," says Dr. Ren.
A winner of the 2021 Hatton Awards in the American Association for Dental, Oral, and Craniofacial Research (AADOCR) and the International Association for Dental Research (IADR), Dr. Ren is a previous Colgate-Palmolive Pediatric Dentistry Fellow, awarded to advance research innovation in areas related to improving children's oral health. This fellowship, established by Colgate-Palmolive in 2017, provides financial support for an individual engaged in postdoctoral research studies at Penn Dental Medicine.
Dr. Dennis Sourvanos, who holds a BsDH and DDS from the University of Southern California, is a fourth-year Advanced Graduate Dental Education resident at Penn Dental Medicine, concurrently pursuing a Doctor of Science in Dentistry and specialty certificate in periodontics. He is also a TL-1 Fellow with Penn's Perelman School of Medicine, Institute for Translational Medicine, and Therapeutics (ITMAT) where he is a candidate for the certificate of Translational Research-Regulatory Sciences. His research has been guided by Periodontics Program Director Dr. Joseph P. Fiorellini, and co-mentor Dr. Timothy C. Zhu, a medical physicist from the Department of Radiation Oncology at the Perelman Center for Advanced Medicine. As a graduate periodontics resident, his research interests have been focused on the clinical development of novel biotherapies for hard and soft tissue regeneration.
"Through this program and ongoing study as part of the Zhu Lab, my research emphasis will be on the innovation of Low-Level Laser Therapeutics (LLLT), non-invasive growth factor upregulation, and tissue regeneration," says Dr. Sourvanos. "I consider it a privilege to contribute to research that has the potential to positively impact the quality of life of patients."