Dr. Brian Ford Recognized with AAOMS Award for Faculty Development
October 6, 2022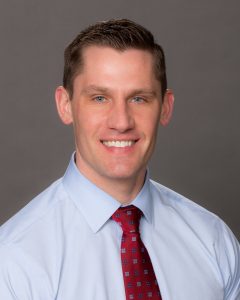 Philadelphia — Dr. Brian Ford, Assistant Professor of Oral & Maxillofacial Surgery at Penn Dental Medicine, was recognized by the American Association of Oral and Maxillofacial Surgeons (AAOMS) as a recipient of its 2022 Faculty Educator Development Award (FEDA). The award was presented at the 2022 AAOMS Annual Meeting, held in New Orleans, La., in September.
The FEDA is meant to encourage promising oral and maxillofacial surgeons to choose a long-term faculty career in the specialty; to encourage those who have been on a faculty for up to 7 years to continue a faculty career in the specialty; and to provide a financial incentive to Commission on Dental Accreditation-accredited residency training programs to retain current faculty and to recruit new faculty. This award is given each year by the AAOMS and the OMS Foundation.
"It is a true honor to receive such a prestigious award," says Ford. "Credit needs to go to our Department Chair, Dr. Anh Le, and Dr. Helen Giannakopoulos, Director of our Residency Program, as the award considers institutional support and mentorship."
Ford, who has been a member of the School's Oral & Maxillofacial Surgery faculty since 2016, earned his DMD at Penn Dental Medicine in 2009 and completed his graduate training in oral and maxillofacial surgery at Penn as well. A board-certified oral and maxillofacial surgeon, Ford's areas of expertise include alveolar bone reconstruction, dental bone grafting, dental implant surgery, dentoalveolar surgery, impacted teeth, and jaw reconstruction.