Dr. Dennis Sourvanos Recognized at the 2023 International Photodynamic Association World Congress
July 24, 2023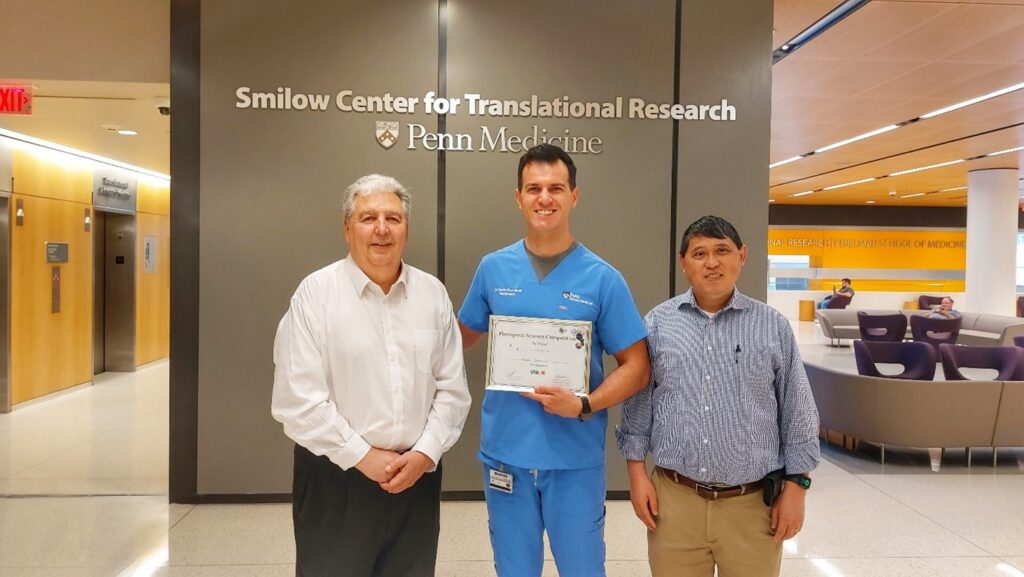 Philadelphia — Penn Dental Medicine postdoctoral trainee Dr. Dennis Sourvanos (GD'23, DScD'23) was recognized at the 2023 International Photodynamic Association World Congress in Tampere, Finland, receiving the "Photogenic Science Competition Award" for his submission related to ongoing research characterizing the optical properties of cortical bone.
Dr. Sourvanos' participation in the event was fortified by the guidance of mentoring committee members Dr. Timothy Zhu and Dr. Theresa Busch from the Department of Radiation Oncology at the Hospital of the University of Pennsylvania. He presented two predictive modeling platforms that he developed at Penn Dental Medicine in collaboration with the Tim Zhu Lab at the Smilow Center for Translational Research: "A Novel Pre-Clinical Model to Assess Fluence Rate for Dental Oral Craniofacial Tissues" and "Three-Dimensional Printing of the Human Lung Pleural Cavity Model for PDT Malignant Mesothelioma."
The International Photodynamic Association is the premier international group with a focus on Photodynamic Therapy and Photodiagnosis. The 2023 World Congress served as a forum for knowledge sharing and collaboration, offering hands-on courses and a diverse international schedule of presentations and fostering an atmosphere of global scientific dialogue across borders.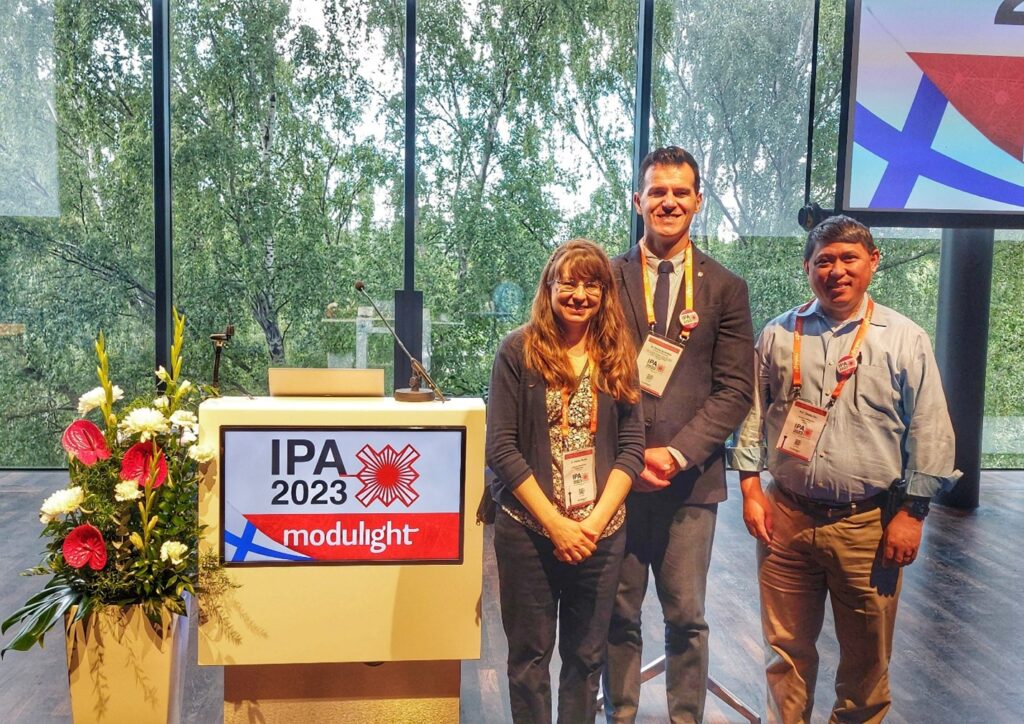 "The opportunity to attend the 2023 IPA World Congress in Tampere was a privilege made possible by the support of my research mentors in Radiation Oncology- Dr. Zhu and Dr. Busch," said Sourvanos. "As a clinician scientist with an emphasis on translational research, the benefits of participating in a program of such a high caliber are immense. It provides a unique platform to learn innovative methodologies and engage directly with a distinguished community of scientists. This experience will undoubtedly catalyze future international collaborations and further propel translational research across our institutional networks."
Sourvanos, who is completing his postdoctoral training in periodontics along with a concurrent DScD degree, is a current fellow in the Center for Innovation and Precision Dentistry (CiPD)'s, NIDCR T90/R90 Postdoctoral Training Program. He is a prior NIH TL-1 Fellow with the Perelman School of Medicine, Institute of Translational Research and Therapeutics (ITMAT).
As an NIDCR T90 fellow, Sourvanos is part of a multidisciplinary collaboration with mentorship by Dr. Zhu and Dr. Busch. In addition, Dr. Sourvanos is mentored by Dr. Joseph P. Fiorellini, Professor of Periodontics and Postdoctoral Director of Periodontics at Penn Dental Medicine.
"Attending the 2023 International Photodynamic Association World Congress, was a testament to my translational and multidisciplinary training at Penn Dental Medicine," said Sourvanos.