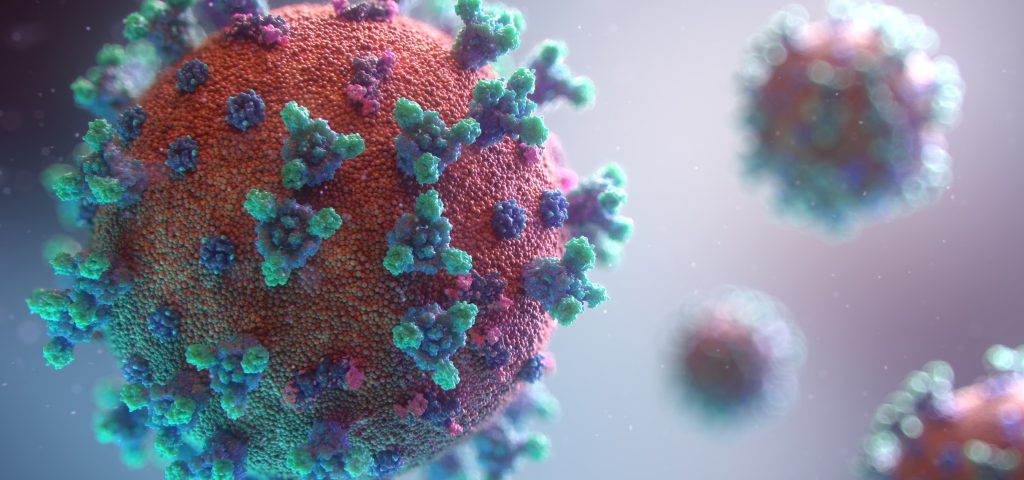 COVID-Related Research
A number of Penn Dental Medicine researchers are working on studies, highlighted below, to potentially help in the understanding, treatment, and prevention of COVID-19.
An Antiviral Drug to Prevent Acute Respiratory Distress
The laboratory of Dr. Robert Ricciardi, Acting Chair and Professor of Basic & Translational Research, is working on research to develop an antiviral drug that would prevent extreme respiratory distress following infection with the COVID-19 virus. When the virus enters the nasal and oral cavities via air droplets, it may progress to the lungs and infect the air sacs that exchange carbon dioxide for oxygen. For this study, researchers are constructing special molecules to coat and mask the COVID-19 virus spike protein, which allows it to bind to the lungs' epithelial cells, and could thus prevent the virus from infecting lung cells. Such an antiviral drug is intended to be inhaled to prevent lung destruction and provide sufficient time for patients to develop immunity.
Using Plant-Based Proteins for Therapy, Vaccine
Dr. Henry Daniell, W.D. Miller Professor in the Department of Basic & Translational Sciences, is working on novel strategies for combating COVID-19, which leverage decades of experience with the successful development of plant-based protein therapies to develop targeted oral therapeutics and vaccination strategies.
One uses a chewing gum to potentially reduce COVID-19 transmission »
Also in the therapeutic realm, Dr. Daniell, in collaboration with Dr. Kenneth Margulies of Penn's Perelman School of Medicine, is pursuing first-in-human studies of an oral preparation that supplements two beneficial proteins — ACE2 and its protein product, angiotensin (1-7) — that are severely depleted in COVID-19 patients. It will assess whether a drug developed to treat pulmonary arterial hypertension could reduce lung and heart injuries in coronavirus patients.
Another project is focused on developing a plant-based oral vaccination to induce durable mucosal immunity that would boost waning immunity following an injected vaccine. Virtually all COVID-19 vaccination strategies are employing injectables that will produce systemic immunity, Dr. Daniell says, but not mucosal immunity. Mucosal immunity, however, is required to protect at viral entry ports and to be more durable and effective in patients with compromised immune systems.
The latter two projects were awarded funding through Pennsylvania's COVID-19 Vaccines, Treatments and Therapies program to support the rapid advancement of vaccines, treatments, and therapies.
Novel Therapeutic Pathways to Prevent Infection
Dr. Bruce Shenker, Professor of Pathology in the Department of Basic & Translational Science, is principal investigator for a study  awarded by the National Institute of Dental and Craniofacial Research in response to its Notice of Special Interest Program for Urgent Competitive Revisions and Administrative Supplements for Coronavirus Disease 2019 (COVID-19). This funding supports groundwork for developing a novel, alternative, and potentially transformative therapeutic approach to mitigate SARS-CoV-2, or COVID-19, infection.
The multidisciplinary team on the grant includes Dr. Gary Cohen, Professor of Microbiology, Department of Basic & Translational Science, and Dr. Kathleen Boesze-Battaglia, Professor of Biochemistry, Department of Basic & Translational Sciences.
The scope of the original study, which focused on bacteria and lymphocyte suppression in periodontitis, has been expanded to build on the researchers' recent observations from their current study on the cytolethal distending toxin, which may help identify novel therapeutic pathways for preventing SARS-CoV-2 infection.
According to the grant proposal, to contain the SARS-CoV-2 infection, it is important to identify early molecular mechanisms that contribute to its high infectivity, as these likely also represent attractive targets for therapeutic intervention. As part of the study, researchers will investigate human oral and pulmonary epithelial cells, including those in the tongue, gingiva, and floor of the mouth.
Assessing Transmission in Aerosol-Producing Environments
Dental practice includes the generation of aerosols, which are thought to increase the risk of SARS-CoV-2 infection. This study, launched earlier this fall in partnership with the Perelman School of Medicine, will determine whether the resumption of clinical dental practice increases the risk of SARS-CoV-2 infection after baseline testing for the virus and compared to a large cohort of medical healthcare workers. Dr. Dana Graves, Professor of Periodontics and Vice Dean for Research & Scholarship, and Dr. David Hershkowitz, Division Chief of Restorative Dentistry are the principal investigators.
The information from this study may help determine whether the protocols for PPE and infection control are effective against SARS-CoV-2 transmission in an aerosol-generating environment. It is enrolling 300 Penn Dental Medicine practitioners who will have antibody testing performed at baseline and every two months for six months afterwards.