Research Day, ACCE Day Spotlight Penn Dental Medicine Student, Faculty Research
May 22, 2023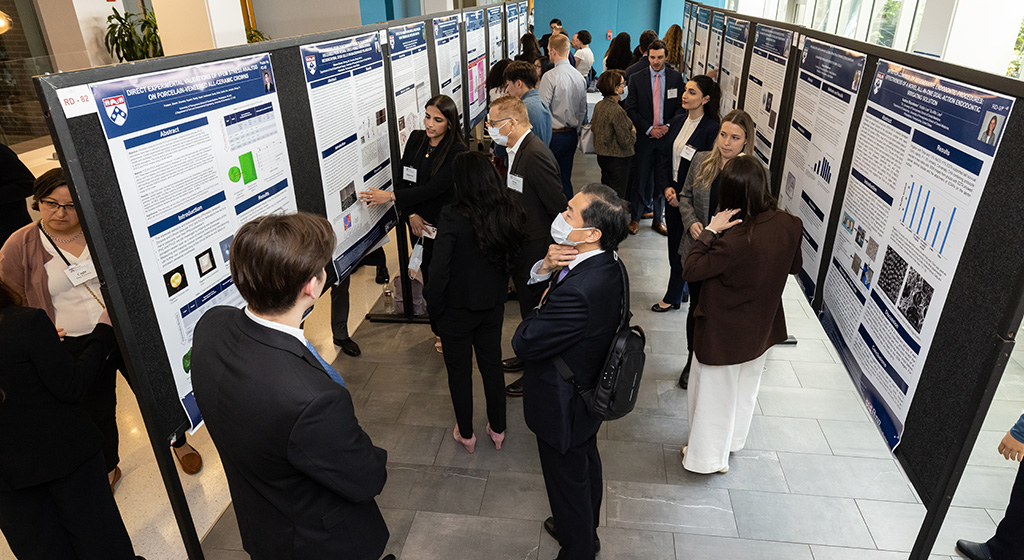 Philadelphia — Penn Dental Medicine recently celebrated the depth and diversity of the School's research and scholarship with two days of programing at its annual Research Day and Advances in Clinical Care and Education (ACCE) Day, held May 10 and 11, respectively.
"These annual gatherings highlight the tremendous work of our faculty and students in advancing research, education, and clinical care across disciplines," says Penn Dental Medicine's Morton Amsterdam Dean, Dr. Mark Wolff. "It is rewarding to see the School cultivating the next generation of clinician scientists."
Both days included guest keynote speakers, faculty presentations, and research poster presentations. This year there were 99  research posters at Research Day (93 eligible for judging) and 99 at ACCE Day  as well (94 eligible for judging), giving students, junior investigators,  and postdoctoral researchers the opportunity to present their projects. Awards were presented each day for the top poster presentations and included the following.
ACCE Day Awards
| Name/Project | Faculty Advisor |
| --- | --- |
| Andres Davila: Orofacial Manifestations of Pediatric Inflammatory Bowel Disease. | N/A |
| Shaan Sehgal, Alternative Option For Management Of Avulsed Teeth | N/A |
| Diana Joo, Oral Rehabilitation in a Patient with Apert Syndrome : A Case Report | N/A |
Award for Independent Research
| Name/Project | Faculty Advisor |
| --- | --- |
| Kyle A. Campbell (D'23): Providing Preventative Care for a Patient with CHARGE Syndrome | Alicia Risner-Bauman, Care Center for Persons with Disabilities, Clinical Restorative Dentistry, Department of Oral Medicine |
| Matthew A. Lee (D'25): In Vitro Comparative Study Between Full-Arch Abutment Level Implant Impressions with Intraoral Scanning and Photogrammetry Systems – A Pilot Study | Julián Conejo, Clinical Restorative Dentistry, Division of Restorative Dentistry |
| Name/Project | Faculty Advisor |
| --- | --- |
| Rachel Kogan (D'23): Smoking Cessation Alternatives | Tatyana Straus, Division of Community Oral Health |
| Kaylyn Hudson (D'25): A Summer at HMS | Joan I. Gluch, Division of Community Oral Health |
| Jenna W. Hahn (D'25): Soldiers No Longer Strangers: Learning How to Serve Veterans at the VA Medical Center | Joan I. Gluch, Division of Community Oral Health |
| Name/Project | Faculty Advisor |
| --- | --- |
| Anthony R. Cappello (D'23): Oral Cavity Changes in Patients Previously Infected with COVID-19: A Retrospective Cohort Study | Katherine A. France: Department of Oral Medicine |
| Mariana Peraza (D'23) and Nina Karnuta (D'23): Functional Crown Lengthening Surgeries Performed by Pre-doctoral Students: a case series | Ioana Chesnoiu Matei, Departement of Periodontics |
| Dana Lee (D'23): Evaluation of Root Canal Treatments Performed by Dental Students Using Traditional Rotary Ni-Ti Files and XP-Shaper Files | Su-Min Lee, Department of Endodontics |
| Dallas D. Clark (D'23): Zygomatic Implants Perforated Through a Radial Forearm Free Flap and Immediate Delivery of a Fixed Prosthesis | Neeraj H. Panchal, Penn Presbyterian Medical Center, Oral and Maxillofacial Surgery |
| Jhanavi Sivakumar (D'23): Case Report: Comprehensive and Esthetic Treatment of Refugee Patient | Olivia Sheridan, Division of Restorative Dentistry |
| | |
| --- | --- |
| Name/Project | Faculty Advisor |
| Tiffany H. Park (D'24): The Skeletal and Dental Age Advancements of Children and Adolescents with Overweight and Obesity: A Systematic Review and Meta-analysis | Chenshuang Li, Department of Orthodontics |