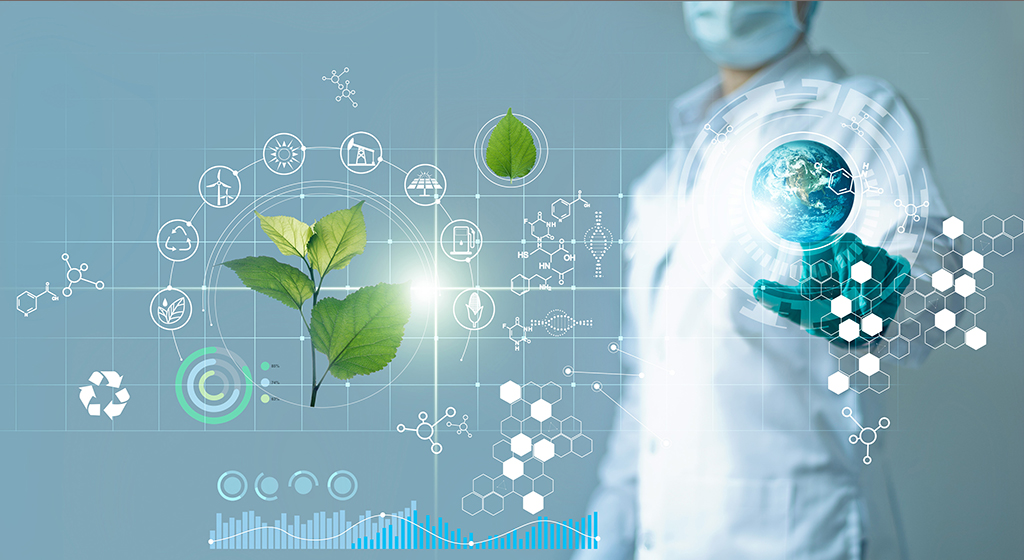 Penn Dental Medicine is in firm agreement that action on the ongoing climate crises is urgently required from all corners of the University and beyond. Oral health care contributes CO2 emissions from 3 principal sources:
travel by patients and health personnel when commuting to and from care centers;
manufacturing, distribution, and procurement of materials and along the supply chain; and
Dentists and oral health professionals can meaningfully contribute to improving the environment in several concrete areas. As outlined by our partners at the World Dental Federation, the provision of high-quality dental care with a focus on prevention of oral diseases is at the core of how to ensure an environmentally sustainable dental practice. Healthy mouths require fewer appointments, require fewer materials and of course, improve quality of life for the patient. Important topics for dental research such as how to disrupt hazardous biofilms and overcome antimicrobial resistance that contribute to dental disease may be informative for other researchers working in environmental science such as those who seek beneficial biofilms to remediate contaminated water and soil. Other areas of exploration such as mitigating impact of heavy metals like mercury in dental restorations could be areas of research collaboration with likeminded groups at Penn like the Center of Excellence in Environmental Toxicology at Penn Medicine and The Water Center at Penn Arts & Sciences.
Efforts to reduce the pollution impact of dentistry on the environment should focus on a strategy of preventive care alongside recycling and reusing capabilities whenever possible. A reduction of carbon footprint is achieved through the provision of optimal health care, by reducing the number of dental appointments people need and reducing the consumption of dental materials. Thus, optimal oral health care has two distinct outcomes: good oral health care outcomes and a reduced environmental impact.
We subscribe to FDI's goals on sustainable dentistry and pledge to:
Increase awareness of the need to implement sustainable actions in the dental community
Share information as to how oral health professionals can act to lead environmentally sustainable outcomes
Work collaboratively to pursue research and share guidelines to advance the goal of sustainable dentistry
To this end Penn Dental Medicine is specifically committed to:
Efficient operation of our highly trafficked facilities – With more than 170,000 patient encounters each year PDM is committed to continuous improvement in the efficiency of our operation as well as offering our visitors opportunities to be good environmental partners. Some examples are:

Specialty recycling nooks are located in our lobby
Hydrostations are located throughout the building to minimize disposable water bottles
All departments are working with IT to reduce waste and encourage recycling
PDM's research enterprise is recycling older research freezers with newer, more energy efficient items

Reduction, where possible, in the environmental impact of certain restorative materials and single-use plastics in dentistry by appropriate replacement materials.
One example is the recycling of preclinical gloves pilot in the pre-clinical lab
Advancing disciplines such as digital dentistry which can dramatically reduce biowaste
Aim for LEED certification on building project eg Evans building
Increased use of teledentisty for consultation to reduce the impact of travel to the campus
Using online tools to collaborate with colleagues and reduce impact of travel where possible
Working to have more offices certified "green"
Offering dental office sustainability lectures through the PDM Continuing Education online learning portal
Pursuing partnership with Penn CEET, The Water Center, LDI and other groups advancing knowledge about sustainability items pertinent to oral health
Facilitating the work of PDM's Student Sustainability Group
Participating in the University's annual sustainability events:

Climate week (October)
30×30 Challenge (April)
Earth Week (April)
Rethink your Carbon Footprint
Have a suggestion or comment? Contact PDM Sustainability
---
[i] Environmental Sustainability Through Good Quality Oral Healthcare, Nicholas Martin, Steven Mulligan International Dental Journal Vol. 72, Issue 1, Feb. 2022, Pgs. 26-30 https://www.sciencedirect.com/science/article/pii/S0020653921001313
FY23-24 Preliminary Plan of Events
Membership drive for Faculty/Staff Green Team, Eco-Reps and Student Sustainability Club
Climate Pledge Drive for Green Offices, Labs and Living: Green Office, Green Labs, Green Living
Outreach of our Specialty Recycling programs to patients and families
Seminar/Lecture on sustainable dental practice
A walk through Bartram Cemetery
Green Purchasing Audit