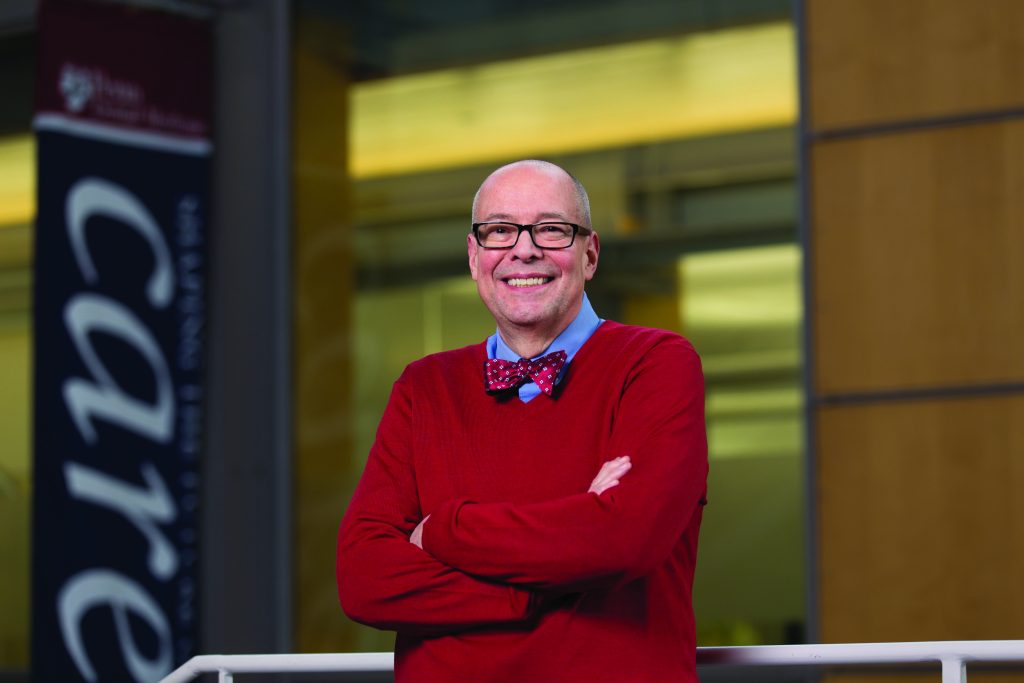 Serving Through Practice & Pedagogy
Though he's been practicing dentistry for 35 years, Dr. Randolph Mitchell (D'81) says he's a "frustrated teacher by nature."
That urge to teach goes beyond the daily dental health instruction he offers his patients. He has tutored high school students in chemistry for years and – since 2013 – he has been volunteering his time to teach a one-day selective course in Forensic Dentistry at Penn Dental Medicine.
"I love interacting with students over the course of the day and learning about their experiences," says Dr. Mitchell. "The American Society of Forensic Odontology and the American Academy of Forensic Sciences believe all dental schools should teach forensic odontology. This way, students understand what the medical examiner's office wants when it subpoenas their patients' dental records to help make an identification. It also helps hammer home the importance of detailed record keeping."
He says the class is also a way to find out if any students may be interested in this important work. "Though I spend nearly 100 percent of my time practicing general dentistry, forensic dentistry is a fascinating area that I've had the privilege to explore," says Dr. Mitchell.
Inspired by Important Investigations
His experience in that field stems from his role as forensic odontologist for the Monroe County (New York) Office of the Medical Examiner (OME), a position he's held since 2009.
"I became interested in forensic odontology in the late 1990s and took as many continuing education courses as I could," explains Dr. Mitchell. "September 11, 2001 inspired me to make forensic odontology more than an interest. I saw the important work dentists did to help identify the victims of that tragedy."
He took the Armed Forces Institute of Pathology courses in forensic dentistry and forensic anthropology. When the Wayne County Sheriff's Department asked him to look at dental records of a missing person and work up a dental profile to help in her identification, his motivation grew. After speaking with the forensic odontologist on staff at the time, he was called in to help identify a murder victim and began assisting the OME on a regular basis.
"The OME allows me to teach using my actual casework, as long as the story of the case is changed to protect the identity of the deceased," says Dr. Mitchell. "I'm involved in various forensics organizations to further my education. And, I lead a lecture on forensic odontology at S.U.N.Y. at Potsdam each year."
He says the greatest impact of this work is providing identifications of decomposed, burned, or severely traumatized bodies. Teeth remain intact in harsh conditions and vary from person to person. Dental identifications give victims' families closure. And, bodies of murder victims must be positively identified in order for suspects to be charged.
Devoted to Dental Excellence
Dr. Mitchell says the selective courses at Penn Dental Medicine, like the forensic dentistry course he teaches, allow students to explore new areas of dentistry and pique interests that may not otherwise develop.
"We received an education that is second-to-none at Penn Dental Medicine," he adds. "I always tell my wife that Penn taught me how to think. We didn't learn a set of cookbook steps for dentistry. We learned about treatment goals, and techniques were ways to achieve our goals. I think of the number of techniques that have come and gone since I graduated and know that the thinking background Penn gave us helps us to continuously evaluate and improve our treatments and methods."
Dr. Mitchell's own passion for dentistry comes from a positive experience he had as a child. "I didn't smile much as a young person, but my orthodontist made my smile great, and I came to like the environment of the dental office," he explains. "I originally planned on specializing in orthodontics but preferred private practice for the variety of things we do on a daily basis."
Post-graduation, Dr. Mitchell first worked in Northeast Philadelphia before practicing with class of 1956 alumnus Dr. John Maliniak in King of Prussia. In 1983, he bought a practice in Lyons, New York from its retiring dentist and has practiced there for more than 32 years.
He's honored to treat generations of patients and establish relationships with local families. He says his dedication to these patients constantly reminds him to keep his professional standards high.
And Dr. Mitchell is thrilled to have maintained strong connections to Penn Dental Medicine."There are many avenues that we, as alumni, can provide to help in the great education process Penn Dental Medicine provides its students," he says. "Interaction with students who will be the dentists of tomorrow is very rewarding and a small price to pay forward for the benefits we've received."
– Originally published in the Penn Dental Medical Journal, Spring 2016
Read more from the Penn Dental Medicine Journal »