Center for Clinical and Translational Research Team
Patricia Corby, DDS, MS
Associate Dean, Translational Research
Associate Professor of Oral Medicine
Associate Professor of Radiation Oncology
Dr. Corby was trained as a general dentist followed by a specialty and residency in Periodontics and Implants. She then obtained her MS in Biomedical Informatics from the University of Pittsburgh, with focus on clinical informatics and machine learning for clinical genomics. She also completed a postdoctoral program in Molecular Biology and Microbial Genetics from Harvard University and the Forsyth Institute. This inspired an interest in the oral microbiome and its impact on systemic health which continues to this day. Dr. Corby has served as Principal Investigator, Co-Investigator, or Consultant on a number of industry-, foundation-, and NIH-funded projects. She is an experienced clinical trialist, with over 20 years of experience designing and running high-impact clinical research projects. As Associate Dean for Translational Research, Dr. Corby lends her extensive expertise to helping others design, obtain funding for, and operationalize clinical research projects. She has trained and mentored dozens of students and postdoctoral candidates and continues this work at PDM through the Center for Clinical and Translational Research.
Dr. Corby's major research interests center around supportive cancer care through the prevention and management of the symptoms and side effects of cancer and its treatment. This includes the identification of specific factors (oral health, innate immune response, microbiome crosstalk, genomics) that contribute to oral manifestations of cancer and cancer treatment, and the development of personalized oral care interventions to prevent and manage regimen-related toxicities. Among her current research projects is a large clinical trial to test the impact of oral health on reducing oral mucositis in patients receiving radiation for head and neck cancer, preventing oral infections and ultimately improving quality of life during cancer care. The study represents an interdisciplinary collaboration between PDM and the Department of Radiation Oncology at the Perelman School of Medicine and is funded by the National Institute of Dental and Craniofacial Research.
In her spare time, Dr. Corby loves producing science-related movies with her son who is a movie director. She also spends time Facetiming with her granddaughter, who is growing into a budding scientist herself
Eugene Ko, DDS
Deputy Director, Clinical Research Operations
Assistant Professor of Clinical Oral Medicine
As Deputy Director, Clinical Research Operations with the Center for Clinical & Translational Research, Dr. Ko supports the leadership of the Center in managing a team of translational scientists to design, validate, and execute translational plans for the growing portfolio of Penn Dental Medicine research. In addition, he provides direct mentorship to the School's faculty and students on clinical and translational research.
Since 2018, Dr. Ko has been Assistant Professor of Clinical Oral Medicine at Penn Dental Medicine. A graduate of Columbia University, College of Dental Medicine, Dr. Ko was trained in Oral and Maxillofacial Pathology at New York Presbyterian-Columbia University, followed by a Clinical Research Fellowship at Memorial Sloan Kettering Cancer Center in New York City. Prior to his appointment at Penn Dental Medicine, Dr. Ko was a Clinical Assistant Professor at the University of Michigan, School of Dentistry.
Dr. Ko's research interests are centered on the the advancement of oral health through translational research and novel medical devices and technologies.
Marta Gabinskiy
Director, Clinical Research Operations and Compliance
Marta has over 16 years of experience in healthcare, with the last ten years focused on supporting clinical research operations. Marta is originally from Slovakia, where her love of mathematics and physics led her to study mechanical engineering. As Director of Clinical Research Operations and Compliance, Marta leverages her attention to detail, precision, scientific mind and analytical skills to developing and implementing innovative solutions and processes to improve efficiencies and overseeing numerous projects and clinical research activities. Never one to sit idle, Marta is fluent in four languages, is a self-taught accordion player, and is pursuing her single engine pilot's license.
Michelle Shuster, MPH, CHES, CCRC
Associate Director, Regulatory Services and Coordination
Michelle is a public health professional with over five years of community-based experience working with low-income and diverse populations. As a Clinical Research Coordinator, Michelle conducts research projects according the study protocol, recruits participants, and is the point person for study-specific regulatory matters. Michelle graduated from Drexel Dornsife School of Public Health with her Master of Public Health. While at Drexel, she worked on several public health research projects, which sparked her interest in research. Prior to joining the Translational Medicine team, Michelle worked in the area of cancer screening and prevention at the American Cancer Society. Her activities included delivering the most effective and appropriate quality improvement strategies and improving access to cancer care. Outside of work, Michelle enjoys traveling, especially to destinations where she can take advantage of her SCUBA certification.
Rosa Urbina
Clinical Research Program Manager
Rosa Urbina is a native from Allentown, Pennsylvania where she spent eight years exploring a variety of roles in the dental field including administrative, clinical, and research. As Program Coordinator, Rosa is responsible for managing all Center activities and ensuring that the administrative aspects of the program run smoothly. She is both a certified medical interpreter and a certified court interpreter and is proud to serve the Hispanic community with her skills and expertise. Rosa is currently pursuing her degree in healthcare management while working full-time, and she is known throughout the school for her infectious smile and enthusiastic greetings. She enjoys adventuring into different cities and trying new cuisines and can always be counted on for a great restaurant recommendation.
Lynn Martin
Senior Research Manager
Lynn is a member of the Teles Lab and is an integral part of the Center's operations. She graduated from Southeastern Massachusetts University with a degree in Medical Technology and has always worked in a health care-related field. Lynn has worked in dental research for over three decades, focusing on the microbiome of the oral cavity and how it relates to both oral and systemic diseases. She is responsible for supervising the day-to-day activities of the lab and serves as a mentor and trainer for students who are seeking advanced dental degrees. As a member of the Center for Clinical and Translational Research team, she develops laboratory processes, drafts lab manuals and associated documents, and performs the hands-on work necessary to ensure the efficient and compliant collection, processing, and storage of specimens collected for clinical research projects. In her spare time, Lynn enjoys baking cookies, crossword puzzles, and a good Hallmark Movie.
Reneé Tangi
Research Dental Assistant
Renee has been involved in the field of dentistry for over twenty years. Her experience and passion for patient care has driven her to gain the knowledge and ability to join the research team. Renee studied at Philadelphia University, and received her CDA certificate from Delaware Valley Academy for medical and dental assistants. As a Dental Assistant, she is responsible for making sure that all procedures run smoothly and that our dental professionals have the materials and support they need. Renee also specializes in Infection Control, and makes clinic cleanliness and safety her top priority. When not working, Renee enjoys cooking, baking and spending quality time with her beautiful family.
Yuan Liu, DDS, MS, PhD
Research Associate
Yuan holds a DDS, MS, and PhD from West China College of Stomatology. She joined the PDM family as a postdoctoral researcher in 2014, and became a Research Associate in May 2020. Before joining PDM, she served as Vice Director of Pediatric Dentistry at her alma mater. Over the years, she has developed a keen interest and passion for understanding the pathogenic mechanisms of dental caries, especially early childhood caries. At Penn Dental Medicine, Yuan continues to advance the knowledge in the field of cariology on two well-defined fronts: Disease Mechanisms and Therapeutic Approaches. She has authored over 40 scientific articles in top-tier journals, including Nature Communications, PNAS, Science Robotics, ISME J, ACS Nano, Biomaterials, PLoS Pathogens, and Journal of Dental Research. Her research contributions were recognized by various awards including AADR Hatton Awards and IADR Women in Science Promising Talent Award. Recently, Yuan has been recognized for her research as a 2021 recipient of the Colgate Award for Research Excellence (CARE), which focuses on discovering the new role for fungal infection in the etiopathogenesis of severe early childhood caries, while identifying potential fungal biomarkers associated with caries severity. At the same time, she has been working on low-cost biotechnology- and nanotechnology-based approaches to precisely target cariogenic biofilms. Outside of work, Yuan enjoys playing Chinese checkers and cooking with her daughter. She also loves traveling and playing Chinese zither.
Andrea Cohen
Research Dental Hygienist
With over 25 years of dental hygiene experience in private practice, Andrea is deeply passionate about patient care and recognizes that oral health and physical health have a symbiotic relationship. Having always been attracted to the sciences, and with a natural attention to detail, a transition into dental research combines her strengths while broadening her skills. At the Center for Clinical and Translational Research, Andrea implements the various study interventions according to protocol by obtaining dental measurements. Originally from Philadelphia, Andrea currently resides in Sothern New Jersey. When not working, she looks forward to traveling, mostly in Europe and spending time with her friends and family.
Kristina Hlinka
Research Assistant
Kristina found her calling for comforting others in their most vulnerable times while working as a certified nursing assistant. Now, she is currently enrolled in the 5-year bachelors of science nursing program at Drexel University in Philadelphia pursuing her dream of becoming a nurse. She continues to develop her clinical skills at various city hospitals on rotations including providing phlebotomy services at the Center for Clinical and Translational Research. She has fully immersed herself into supporting the Center and broadening her clinical research experience by becoming an integral member of the daily operations, assisting hygienists, and coordinating participant visits. When Kristina is not at work or in class, she is baking, exploring new cities, or spending time with friends and family.
Janeca Latore is a dedicated healthcare professional with a passion for public health. As a Clinical Research Coordinator, she ensures studies are run according to protocol, screen and obtain informed consent from potential participants in compliance with regulations and best practices, as well as maintain study specific case report forms and source document tools. Janeca earned her Bachelor's degree in Public Health from Temple University, and later went on to receive her Master's degree in Public Health with a concentration in Healthcare Management from West Chester University. Janeca has over ten years of experience in the healthcare field working as a pharmacy technician and as a Storage and Handling Specialist for the Philadelphia Department of Public Health.
During this time, she was able to hone her customer service, organizational, and interpersonal skills. She was also able to gain valuable experience working in a clinical setting. Janeca has a strong humanitarian spirit and has volunteered for organizations such as the American Heart Association. Her previous work in the health department's immunizations team, as well as her internships at the Alliance for Health Equity, the American Red Cross, and Wills Eye Hospital, have given her a unique perspective on healthcare.
In her spare time Janeca like to travel, try out new restaurants, hangout with friends, and take care of her plants.
After getting her bachelor's degree in Biochemistry & Molecular Biology at Bryn Mawr College, Rosemary found herself passionate about laboratory research. Before pursuing a higher degree, she decided to work as a research specialist in academic labs to consolidate her knowledge and to acquire more research experiences as a scientist. Rosemary joined the PDM family in 2022 first assisting in basic research which had a focus on jaw tumors, then she transitioned to the clinical research team at the Center for Clinical and Translational Research in 2023. Here in the team, Rosemary is responsible for lab processing of human subject samples obtained from the clinic during each visit as well as detailed document recording after performing each processing procedure.
Clinical Research Honors Students
Elly Choi
Clinical Research Honors Program 2023-2024
Cerjay Lugtu
Clinical Research Honors Program 2022-2023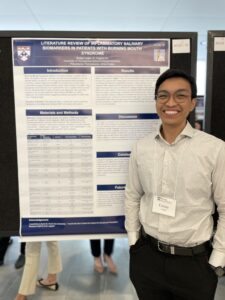 Cerjay Lugtu presented his poster on ACCE Day, May 11, 2023, at the University of Pennsylvania (image of student)
Poster title: Literature Review of Inflammatory Salivary Biomarkers in Patients with Burning Mouth Syndrome
Wenyan (Wendy) Lei
Clinical Research Honors Program 2022-2023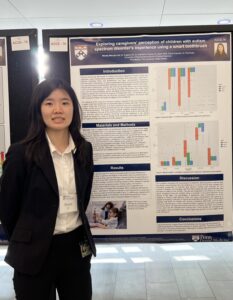 Wendy Lei presented her poster on ACCE Day, May 11, 2023, at the University of Pennsylvania.
Poster title: Exploring caregivers' experiences when using a smart toothbrush by children with autism spectrum disorder
Andrew Tsai
Clinical Research Honors Program 2021-2022
Julia Jeong
Clinical Research Honors Program 2021-2022
Jessica Kang
Clinical Research Honors Program 2021-2022
Jared Layton
Clinical Research Honors Program 2021-2022
Moussa Ghannam, DMD candidate
Clinical Research Honors Program 2020-2021
Mousa Ghannam is a second year Doctor of Dental Medicine and Masters in Public Health (DMD/MPH) dual-degree student at the University of Pennsylvania School of Dental Medicine. A Michigan native, he earned his BS in Chemistry from Kalamazoo College in 2017. Upon graduating, he had the opportunity to study salivary gland development as a post-baccalaureate research fellow at the National Institutes of Dental and Craniofacial Research (NIDCR). Working for the NIH also afforded Mousa the opportunity to visualize National Health and Nutrition Examination Survey (NHANES) data with fellows pursuing the Oral Health Informatics fellowship at NIDCR. Since then, he has become passionate about informatics and its applications within dentistry, particularly public health. As a clinical research honors student at CCTR, Mousa is gaining exposure to innovative ways that information technology can support Clinical and Translational Research. Outside of research, he plays on the intramural soccer team, and beatboxes for the Dental School's acapella group, SoundBites. His favorite cereal is Cinnamon Toast Crunch.
Jiahui (Madelaine) Li
Clinical Research Honors Program 2020-2021