CE Credits: 1.0 Hour(s)
Date Course Online: April 23, 2020
Last Revision Date: N/A
Course Expiration Date: April 23, 2021
Cost: Free; registration required
Register: Click Here »
Description
Take a tour of how the COVID-19 coronavirus emerged and functions as a pathogen to cause disease. The tour will view the pathology of COVID-19, assays for its detection as well as vaccine and therapeutic approaches for prevention and treatment.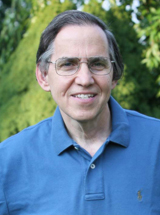 Robert P. Ricciardi, MA, PhD
Acting-Chair and Professor of Basic & Translational Sciences
Department of Basic & Translational Sciences
Penn Dental Medicine
Dr. Robert Ricciardi's was a Postdoctoral Fellow at Harvard Medical School in the Department of Biological Chemistry, Dr. Ricciardi developed one of the first genomic technologies, which was used widely to discover and map hundreds to thousands of genes by identifying the proteins they encode. Dr. Ricciardi's early research centered on understanding basic mechanisms of cancer. He identified the first gene (E1A) that in mammalian cells activates expression of other genes. His early work elucidated how viruses can make cells cancerous by enabling them to escape the immune system. These studies in turn, disclosed a key mechanism that modulates NF-kappa-B, the master regulator of the immune system. More recently, Dr. Ricciardi's research has focused on developing antiviral drugs against PFs that are essential for viral replication. His group invented a mechanistic assay that resulted in the discovery of PFs from 5 viruses. The most recent work of his group has led to the discovery of Lead compounds for treating molluscum contagiosum, a skin disease that mainly affects children, as well as a Lead compound for treating and preventing human Ocular Herpes Keratitis, the leading cause of corneal blindness in the world. His lab's interest has now extended to developing an antiviral against COVID-19.
Disclosure: Dr. Ricciardi has no relevant financial interests to report.

University of Pennsylvania School of Dental Medicine is an ADA CERP Recognized Provider. ADA CERP is a service of the American Dental Association to assist dental professionals in identifying quality providers of continuing dental education. ADA CERP does not approve or endorse individual courses or instructors, nor does it imply acceptance of credit hours by boards of dentistry.
University of Pennsylvania School of Dental Medicine designates this activity for 1.0 continuing education credits.