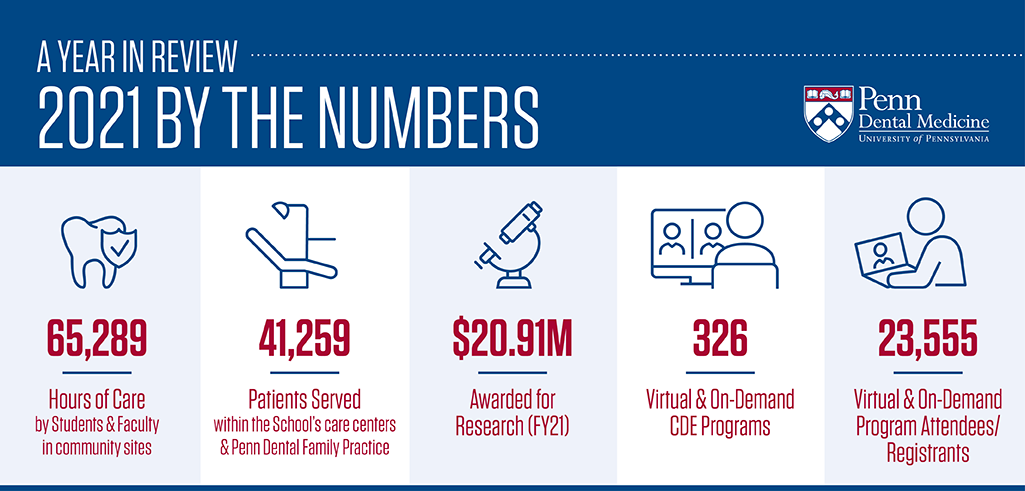 Education
Building on its portfolio of advanced degree options, Penn Dental Medicine launched a new hybrid master's program in 2021 – the Master of Advanced Dental Studies (MADS). In the MADS program, students will take courses through an interactive online platform and attend a six-week on-campus clinical rotation in a choice of seven specialty areas. The year also brought continued growth of the School's online continuing education, including the launch of a new e-learning platform for online and hybrid learning programs and for housing a library of lectures that can be viewed at any time. In the realm of teaching, the School's faculty grew significantly in 2021 with 15 new full-time members (including Dr. Kang Ko, a Penn Dental Medicine DMD and periodontal/DScD graduate) along with 20 part-time clinical faculty. In addition, a number of veteran members were recognized for their teaching and service, including Dr. Helen Giannakopoulos with Penn's Lindback Award for Distinguished Teaching, Dr. Joan Gluch with the PDA Public Service Award, Dr. Miriam Robbins with the American Academy of Oral Medicine's highest award, and Dean Mark Wolff with Exceptional Parents magazine's Top 50 Advocates within the disabilities rights movement.
Research
In the area of research, 2021 brought the launch of key initiatives with the formation of two new centers – the Center for Innovation & Precision Dentistry (CiPD) and the Center for Integrative Global Oral Health (CIGOH). A partnership with Penn Engineering, the CiPD is bringing engineering approaches to address unmet oral health needs. In its first year, CiPD has already been awarded a major teaching grant from the NIH and presented its inaugural research awards for innovation – the IDEA Prize and the Advancing Oral & Craniofacial Health Award. The School's first policy center, CIGOH is positioning itself to take the lead in transforming the way educators, practitioners, and policymakers address the challenges of achieving equitable oral health locally, nationally, and around the globe. Dr. Michael Glick joined CIGOH as Executive Director and Dr. Alonso Carraso-Labra, a global authority in evidence-based health care, also came on board to help move the vision of the Center forward, while the CIGOH Lecture Series launched, bringing together global thought leaders in oral and general health. Faculty and students also earned recognition for their research, including Dr. Yuan Liu with the Colgate Award for Research Excellence and the IADR Joseph Lister Award for New Investigators, Dr. Chenshuang Li with the IADR Innovation Award for Excellence in Orthodontics Research, postdoctoral fellow Dr. Zhi Ren with both the AADOCR and IADR Hatton Awards and students Alisa Lee (D'22) and periodontal resident and DScD candidate Dr. Dennis Sourvanos (GD'23), receiving the AADOCR Student Research Fellowship and the AADOCR William B. Clark Fellowship Award in Clinical Periodontal Research, respectively.
Patient Care
Strengthening its commitment to ensure accessible care for all, the School's Care Center for Persons with Disabilities became fully operational in 2021. Every DMD dental student will now get hands-on experience managing patients with a wide range of disabilities as well as seeing medically complex patients in the Center. And with support from the Delta Dental Foundation, an online professional development program in this arena also launched – the Center for Persons with Disabilities Presentation Series. The Series aims to build awareness of the barriers to equitable oral health for individuals with disabilities and develop competency to provide oral health care to this vulnerable population. Dentists completing 18 or more of the courses within a three-year period will receive a certificate of completion from Penn Dental Medicine as a Disabilities Dentistry Clinician Expert. Building on its service to refugees and survivors of psychological, physical and intimate-partner violence through the School's Vulnerable Populations Clinic, the School made the decision at the close of 2021 to expand the Clinic hours in 2022 after seeing and responding to the growing need for care among recent Afghani refugees relocating to the Philadelphia region.
Philanthropy
June 30, 2021 marked the conclusion of The Power of Penn campaign – the University's most successful fundraising and engagement effort ever undertaken, and in turn, the most successful for Penn Dental Medicine as well. Exceeding its initial campaign goal, Penn Dental Medicine raised a record $70 million through the generosity of 3,727 donors. The campaign's success and impact is a testament to the strength and engagement of Penn Dental Medicine's faculty, staff, and student community; the outstanding support of alumni, donors, and friends; and the leadership and generosity of volunteers. The past year also brought two particularly notable gifts to the School: $5 million from alumnus Dr. Garry Rayant (GD'77) and his wife, Dr. Kathy Fields, to create a new endowed professorship and provide the foundational support to establish the Center for Integrative Global Oral Health (CIGOH); and a $20 million estate gift from Carol Corby Waller honoring her father, Class of 1917-graduate Dr. Arthur E. Corby.
Archive