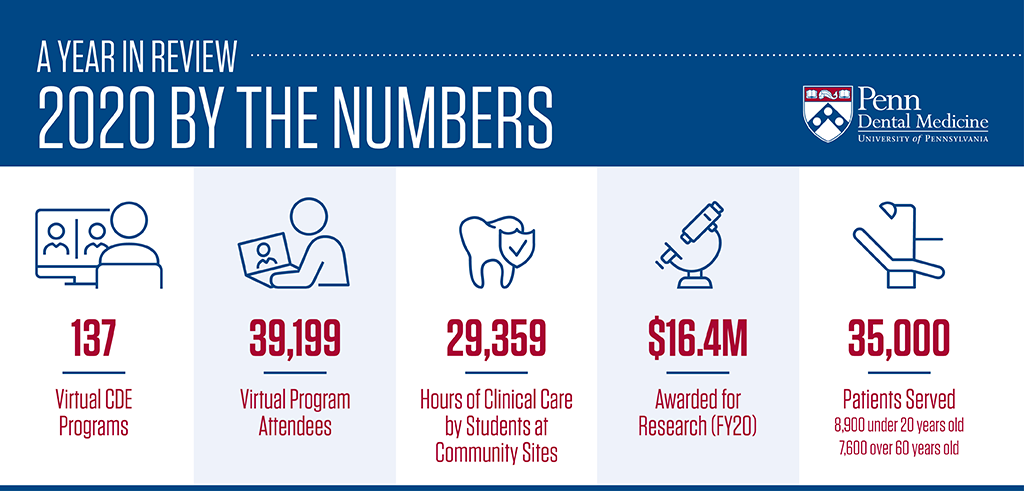 COVID-19
With adaptability and resilience, Penn Dental Medicine has navigated the new normal, continuing to advance academics, research, and patient care through the COVID-19 pandemic. In the early days of the pandemic, the School maintained service to the community with teledentisty and ongoing emergency care, while developing protocols to safely resume comprehensive patient care. In the realm of research, a number of labs pursued COVID-19-related studies, and academically, instruction pivoted to virtual platforms, including a unique model developed to evaluate students' clinical competencies virtually. In addition, the School continued to engage with alumni and clinicians across the country and around the world through a robust program of virtual and online continuing education programs.
---
Education
The culmination of the School's Digital Innovation Initiative, aimed at fully integrating the latest in digital dental technologies at almost every stage of education and patient care, came to fruition in 2020 with opening of the new Digital Design and Milling Center and the Center for Virtual Treatment Planning. These facilities provide possibilities for training students, conducting research and offering continuing education, while delivering seamless and cutting-edge patient care. Within clinical instruction, recruitment of seasoned full-time clinical faculty combined with an expansion of our community based education sites increased clinical experience by more than 20% for DMD students. In addition, the School's advanced graduate degree offerings grew with a new Master of Oral Health Sciences. Plans are well underway to launch an Advanced Education in General Dentistry program with a grant award and the recruitment of the program director.
---
Research
Adding to the School's research enterprise, Penn Dental Medicine welcomed Dr. Yu Zhang to the Department of Preventive & Restorative Sciences in 2020. A highly respected researcher in the field of dental ceramics, his work bridges the gap between dental material sciences and clinical practice. A rising star in the Department of Oral Medicine, Dr. Temitope Omolehinwa launched an NIH-funded study taking on HIV and oral health and hoping to build data on an understudied issue. The year brought recognition to a number of faculty and students for their research, including: Dr. Michel Koo, named Emerging Inventor of the Year by Penn Center for Innovation; Dr. Dana Graves, receiving the 2020 International Association for Dental Research (IADR) Periodontal Research Group Award in Regenerative Periodontal Medicine; Dean Mark S. Wolff, sharing the 2020 IADR/AADR William J. Gies Award for clinical research; Grace Huang (D'21), taking first place in the 2020 AADR Hatton Competition; and two postgraduate researchers also receiving IADR awards.
---
Patient Care
Penn Dental Medicine's presence in the community expanded greatly in 2020 with the opening of two new patient care sites – a three-chair facility at Puentes de Salud, a non-profit health center that serves Latin American immigrants in and around South Philadelphia, and an eight-chair dental suite at Spectrum Community Health Center in West Philadelphia. In addition, Penn Dental Medicine's patient care sites at Mercy LIFE, serving the elderly in West Philadelphia, and Sayre Health Center, a federally qualified health center also in West Philadelphia, both grew from one- to four-chair centers. The expansion is enabling the School's to not only better serve the community, but also provide students with more clinical care experiences in these diverse settings.
In addition, a key addition to School's patient care services was completed at the end of 2020 as the Personalized Care Suite, the clinical care component of the Care Center for Persons with Disabilities, opened its doors and the Center's leaders were named. All Penn Dental Medicine students will gain direct experience treating patients in the Center, which will also feature the Colgate Innovation Laboratory.