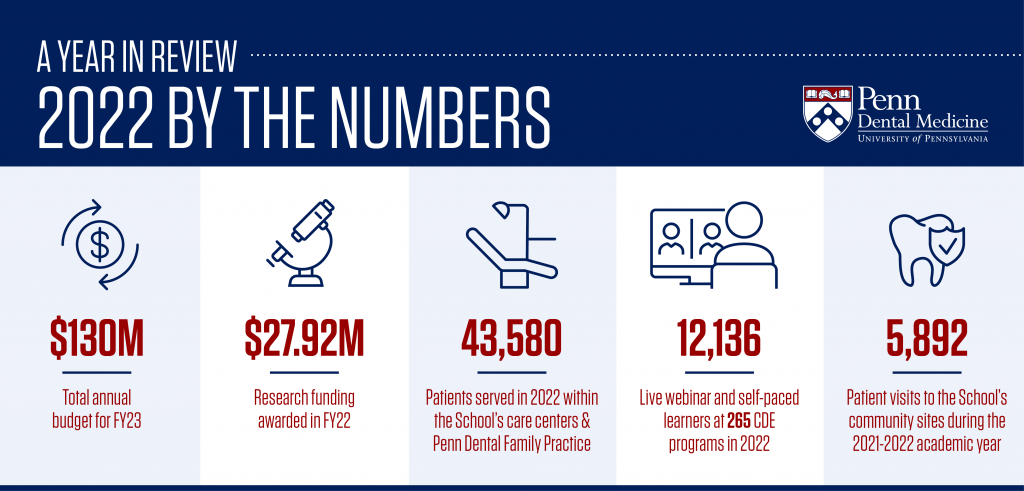 Education
Adding to the depth of its graduate dental education offerings, Penn Dental Medicine launched an Advanced Education in General Dentistry (AEGD) program in 2022, with the inaugural class entering in July 2022. The one-year AEGD program is designed to provide dental school graduates with advanced dental education training in comprehensive dental care with a focus on medically complex, vulnerable, and underserved populations. Dental residents complete clinical care rotations within Penn Dental Medicine's Personalized Care Suite in its Care Center for Persons with Disabilities and at a Woods Services, a new community site that opened in 2022.
Within the DMD program, 2022 marked the 10th anniversary of the Master of Public Health (MPH) dual degree – one of the unique dual-degree options made possible through the close interdisciplinary ties with Penn's other schools. This offering in conjunction with Penn's Perelman School of Medicine, continues to have a far-reaching impact on the career paths of graduates and the patients they serve.
In June 2022, well before the Penn Dental Medicine freshman class would arrive on campus for orientation, the incoming Class of 2026 was invited to spend the day together virtually — meeting each other and getting an introduction to upperclassmen, faculty members, and the network of support staff and resources that would be available to them as new Penn Dental Medicine students. This "new student institute" launched in 2022 as one of the added efforts to support student wellness with plans to expand it in 2023.
In the area of continuing education, Penn Dental Medicine launched an immersion program sponsored by the Delta Dental Foundation, training dental care providers from throughout the country to deliver better care to persons with disabilities. The program is part of Delta Dental's Centers of Inclusive Dentistry (CID) initiative that aims to deliver high-quality dental treatment to people with disabilities at designated Federally Qualified Health Centers (FQHCs). Practitioners from the participating FQHCs spend three days at Penn Dental Medicine's Care Center for Persons with Disabilities Personalized Care Suite, observing and learning about ways to improve the delivery of dental care to patients with disabilities. By the close of 2022, six sessions had been presented.
In addition, the popular Center for Integrative Global Oral Health (CIGOH) Lecture Series was reframed in 2022 as a dialogue with prominent scholars in the realm of global health. This new CE series, titled "Roots of Wisdom," brings together influential global leaders to answer and discuss thought-provoking questions and share their population and public health experience and knowledge.
And recognized for the innovative use of learning technologies, Penn Dental Medicine was designated an Apple Distinguished School for 2022-2025 (also having received this designation for 2019-2022). Apple Distinguished Schools are centers of innovation, leadership, and educational excellence that use Apple technology to inspire creativity, collaboration, and critical thinking. They showcase innovative uses of technology in learning, teaching, and the school environment and have documented results of academic accomplishment.
Research
In the realm of research, one of the key missions of the Center for Innovation & Precision Dentistry (CiPD), Penn Dental Medicine's collaborative center with Penn Engineering, is to develop a new generation of scientists at the interface of dental medicine and engineering. To that end, in 2022 the CiPD welcomed its inaugural class of fellows for its new postdoctoral training program (the CiPD was awarded a $2.5 million T90/R90 grant from the National Institute of Dental and Craniofacial Research (NIDCR) in 2021 to establish the program). The NIDCR T90/R90 Postdoctoral Training Program aims to specifically focus on the oral microbiome, host immunity, and tissue regeneration, each of which ties into different aspects of oral health, from tooth decay and periodontal disease to the needs of head and neck cancer patients. Dr. Zhi Ren, one of the NIDCR T90/R90 fellows, was awarded the 2022 American Society for Microbiology (ASM)'s Early Career Symposium (ECS) Best Presentation Award. A postdoctoral fellow in Dr. Hyun (Michel) Koo's and Dr. Kathleen Stebe's groups, Dr. Ren's research focuses on understanding how bacterial and fungal pathogens interact in the oral cavity to form a sticky plaque biofilm on teeth, which gives rise to severe childhood tooth decay that affects millions of children worldwide. In his recent project, for which he received the award from ASM, Dr. Ren discovered that bacteria and fungi naturally present in the saliva of toddlers with severe decay can form superorganisms able to "walk" and "leap" on tooth surfaces.
Adding to the depth of the School's research faculty within the CiPD, Penn Dental Medicine welcomed Dr. Kyle Vining in July 2022. Dr. Vining is Assistant Professor of Preventive and Restorative Sciences with a secondary appointment at Penn's School of Engineering. A primary focus of Dr. Vining's research has been targeting mechanical regulation of tissue inflammation in bone marrow disease and head and neck cancer. He is also developing strategies to target inflammation and promote tissue repair and regeneration in oral and craniofacial diseases.
Among other research news from 2022, Penn Dental Medicine's Dr. Sunday Akintoye, Associate Professor, Department of Oral Medicine, was among the 2022 cohort of Penn faculty awarded research support from the Penn Global Research and Engagement Grant Program. His project, titled the "Penn/UniLag Collaboration on Racial Disparities in Ameloblastoma Recurrence," will build upon ongoing research collaborations he has with the University of Lagos in Nigeria. In addition, a clinical trial launched to evaluate a unique chewing gum designed by Penn Dental Medicine's Dr. Henry Daniell, Vice Chair and W.D. Miller Professor, Dept. of Basic & Translational Sciences, to trap SARS-CoV-2 in the saliva, potentially blocking transmission of COVID-19 from one person to another, and four Penn Dental Medicine faculty were awarded patents related to their research — Dr. Henry Daniell; Dr. Kathleen Boesze-Battaglia, Professor, Dept. of Basic & Translational Sciences; Dr. Gary Cohen, Professor, Dept. of Basic & Translational Sciences; and Dr. Michel Koo, Professor, Dept. of Orthodontics and Divs. of Pediatrics and Community Oral Health.
Dr. Koo and Dr. George Hajishengallis also were named on the Highly Cited Researchers™ 2022 list from Clarivate in the microbiology and cross-field categories, respectively. The annual list identifies researchers who demonstrated significant influence in their chosen field or fields through the publication of multiple highly cited papers during the last decade. These papers rank in the top 1% by citations for field or fields and publication year in the Web of Science™ citation index. In 2022, 6,938 or about 0.1% of the world's researchers have earned this exclusive distinction.
Patient Care
Expanding its outreach within the community and service to individuals with disabilities, Penn Dental Medicine announced a new partnership with Woods Services in 2022 to provide dental treatment for its clients and residents; Woods is a Pennsylvania- and New Jersey-based nonprofit that serves children and adults with intellectual and developmental disabilities and acquired brain injuries. Woods' existing dental care center within its Langhorne, Pa.-based campus underwent extensive renovations, reopening as Penn Dental Medicine at Woods Mikey Faulkner Dental Care Center. Residents from Penn Dental Medicine's AEGD program provide care in the Center.
In addition, a 26-member delegation from Penn Dental Medicine comprised of Dean Mark Wolff, faculty, administrators, alumni, and friends travelled to Israel in October 2022 to participate in a two-day conference on the topic of improving oral health care for persons with disabilities. Dean Wolff also traveled to Paris to present at the International Association for Disabilities & Oral Health on the same topic.
The American Academy of Pediatric Dentistry (AAPD) recognized Penn Dental Medicine's Care Center for Persons with Disabilities Personalized Care Suite with its 2022 Manuel M. Album Award, presented annually to an individual or organization that has made the greatest contribution to the oral health of children with special needs.
And expanding its patient/caregiver support, Penn Dental Medicine developed a video library that provides an introduction to the Personalized Care Suite facility and what is involved in a visit to the dentist, helping patients prepare for their visit.